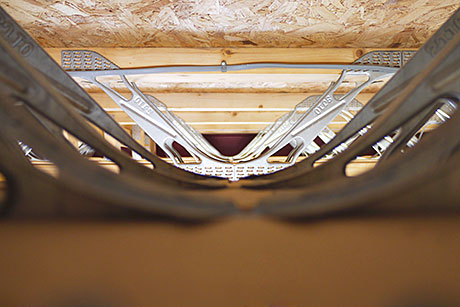 ITW's SpaceJoist range claims to be stronger than the competition – and has exceptional sound resistance.
Following the launch of the SpaceJoist SJ10 (254mm) web last year, ITW Industry is introducing SJ9 (219mm) and SJ12 (304mm) webs to complete the range of popular joist depths. SpaceJoist SJ open web joists achieve longer spans with less timber and fewer webs than their predecessors.
The new patent-pending SpaceJoist webs offer a number of impressive improvements. The additional perimeter teeth are unique and provide more bite, thus improving joist stiffness. New burst-through holes in the struts create a strong C-Section, improving compression strength in critical areas. Contact tabs have been introduced to transfer load from the webs to the timber chords more effectively, further increasing web capacity.
The new SpaceJoist's resistance to sound in non-separating floors exceeds minimum requirements for England, Scotland and Wales without the need for insulation, resilient bars or additional plasterboard. (The SJ9 web is the only one in the industry to achieve this.)
These benefits, claims ITW, could each amount to considerable cost savings in timber, metal webs and time for manufacturer and builder alike.