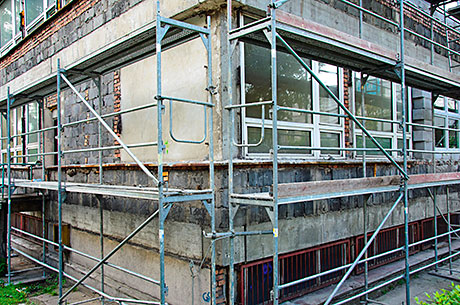 One-day CISRS Operative Training Courses (COTS) were launched this autumn, with the first courses being held at NETA Training in Stockton-On-Tees.
Before an initial trainee or scaffolding labourer card can be issued, it is now a CISRS requirement to have completed the one-day course.
The course has both theoretical and practical elements, and covers a variety of essential areas such as the servicing of equipment, electrical safety, working at height, accident prevention and manual handling.
Fran Michna, an instructor at NETA Training, who conducted these first COTS courses, says: "It's a very good course – it makes candidates who want to come into a career in scaffolding think about the many environments that they could work in. I have been in the scaffolding industry for 43 years, and everything that was in the COTS course l have experienced at some time or other in my working life.
"The feedback has been positive and we had some very interesting discussions on the content while the training was taking place."
As well as new entrants to the industry, existing CISRS Scaffolding Labourer cardholders will be required to complete the course on a five-yearly cycle, each time their current card expires.
David Mosley, CISRS training manager, says: "Congratulations to NETA for getting the new COTS courses off the ground so successfully. This one-day course is a very full one and contains a lot of important information. It is a great introduction to anyone starting out in the industry, and is ideal for someone who has not attended any recognised training in several years as it covers all of the essentials they need to know when working on site."
Having been launched on 1 September, the course is still in its infancy, but the industry seems to be responding positively to its introduction with a steady stream of enquiries and bookings being made. The course is available at CISRS centres across the UK and those with onsite accreditation could carry out this training peripatetically if required.