Company leaves its stamp on landmark buildings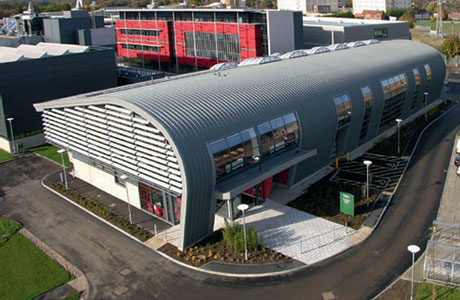 RIGISYSTEMS has left its mark on high-profile buildings involved with two very different forms of travel.
The company's Ziplok standing seam profile with MicroZink was specified for the 1,800 sq. metre Aerospace Technology Centre at Nottingham University where the roof to wall application complements the 'space age' nature of the project. MicroZink provides the performance benefits of aluminium with the aesthetic appeal of a traditional zinc roof. The coating changes colour and gloss over time in almost exactly the same way as pure zinc yet in all other respects the profiles behave in the same way as standard aluminium.
In a more down-to-earth contract, around 3,000 sq. metres of one of RigiSystems Creative Profiles were used to create a contemporary look and feel to the fourth span of London's Paddington Station roof.
The fourth span was added in 1916 to Isambard Kingdom Brunel's original three-span design, but it fell into disrepair in the 1990s. Contractor Morgan Sindall had the job of creating the new structure on the Grade 1 listed building, serving up to 180,000 passengers a day, while keeping six platforms operational and watertight.
The 'saw tooth' profile, in 1.2mm thickness steel, is plastisol coated on both sides in Goosewing Grey on the outside and Terracotta on the inside.
RigiSystems has also been busy on product development, as evidenced by the introduction of CladFrame, a cladding/façade support system that features a cladding rail support bracket to provide a universal solution to façades – whatever the building structure, the carrier rails, and whether for fixed or floating-point rail support.
The design of the bracket is said to make it inherently stronger than similar system, both in carrying capacity and in pull-out strength, which enables fewer brackets to be used and makes the system faster and more economical to install.
Two clips at the extremities of the bracket allow for simple positioning of the carrier rails prior to levelling and fixing. Having only one bracket for use either left-handed or right-handed, and for vertical or horizontal applications, means designing the whole carrier system is simpler.
Brackets are made of 3mm thick structural grade aluminium and if required, come complete with an integral bonded isolation pad to provide a thermal break between the substructure and the façade system. The isolation pad also prevents corrosion occurring as a result of interaction between the substructure and the aluminium bracket.
Image – The Ziplok standing seam profile was chosen to tie in with the space age nature of the building at Nottingham University.