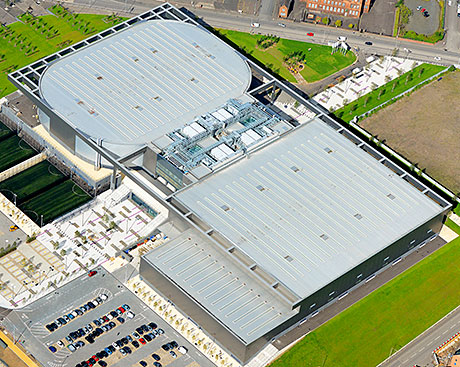 A standing seam system with Class A sound absorption was specified for the roofs of Glasgow's Emirates Arena which will be one of the key venues at next year's Commonwealth Games.
Designed by architect 3DReid and built by Sir Robert McAlpine, the complex contains 18,600 sq. metres of Kalzip aluminium sheets in lengths of up to 98 metres. Also installed was a similar quantity of fully-perforated Kalzip liner sheets with high density insulation acoustic boards to achieve a U-value of 0.25 W/m²K and, more importantly, the sound absorption and reduction levels required to satisfy the architect's acoustic criteria.
The vast majority of sheets were manufactured on-site at eaves level using a portable roll-former suspended from a crane. Kalzip's midair manufacturing capability is a fast and safe technique because the suspended roll-former is able to be quickly repositioned anywhere around the site and to produce very long standing seam sheets wherever they're needed on the roof.
Bob Adamson, 3DReid's lead architect, recalled: "It became clear during the tender process that Kalzip's standing seam would be the most cost effective system to use. The ability of Kalzip to manufacture the roof covering for the project in single sheet lengths in excess of 90 metres enabled the roof covering to be completed without end lapping of joints, one of the key aspects of the roof design."
The extensive acoustic testing carried out for Kalzip by Salford University ensured the system met the tight acoustic performance levels and Kalzip's ability to manufacture roof sheets from roll aluminium at roof level significantly reduced manual handling and helped the contractor meet the contract deadlines.
The Emirates Arena complex, which includes the Sir Chris Hoy Velodrome, has been described as one of the most versatile structures of its type in the world. It has a 200-metre athletics track with 'hydraulic bends' allowing its conversion into a multi-sport facility. The adjacent sports hall can accommodate 12 badminton courts or be subdivided into separate areas for other activities.