NorDan windows play their part
LOW maintenance timber windows from the company played an important part in a £3m development of new-build social housing recently completed in Inverness by Stewart Milne Construction. The first new Highland Council houses in the city for more than two decades, the 24 properties are part of a 56-home development being built for Caledonia Housing Association.
The low u-values of the Scandinavian timber tilt-and-turn windows added to the sustainability targets of the development at Kinmylies, which was supported by the Scottish Government and designed by local practice Colin Armstrong Associates. The firm's David Cameron explained: "We designed these homes to meet low energy criteria and a 1.2 u-value window product helps that to be achieved. NorDan window and door products have a simple and reliable opening mechanism and furthermore, are competitive on price and give our clients a low maintenance solution in the life cycle of the product, where weather performance is also a consideration."
NorDan supplied its NTech range of timber windows and 1.2 Ntech balcony doors as well as low energy composite front doors from the Bordorren range.
In another pioneering project, NorDan products were supplied to Rational House which won the pilot project to supply and build 10 ten units in the Borough of Hammersmith and Fulham with the possibility of a further 100 over the coming years. The deal follows a prototype built last year in Hammersmith.
Engineer Tim Battle and architect Robert Dalziel set up Rational House and subsidiary company City House Projects and said they took inspiration from the most successful features of housing past and present around the world to develop the new building which meets the Code for Sustainable Homes Level 4.
The house is over four storeys and has three bedrooms and has a top floor study and terrace. External walls are load bearing to eliminate the need for internal steel framework and to provide an adaptable layout. Modules are constructed offsite.
"It took two weeks to assemble the shell of the prototype house we built in Fulham," says said Dalziel. "A large proportion of the materials are made from industrial waste. The zinc and the bricks are reclaimed, 70% of the panels are made from recycled materials and 100% of floors and staircases are recycled using secondary aggregate that would have otherwise gone to landfill."
Rational House now has ambitions to achieve Code 6. PV panels on the roof terrace provide the house with 15% of its energy requirements.
Among those who have helped the pair achieve their aims is door and window company NorDan. Regional director Paul Detain said: "Our large triple glazed windows with 0.7 u-values are an essential element of this sustainable construction, providing low u-values to seal the building with energy efficiency. Given their size, they also provide an airy light feeling throughout."
Natural stack ventilation via the stairwell and low water use fittings also help reach the energy efficiency targets. The 150 sq. metre unit has a footprint of just 9.5 x 9.5 metres.
NorDan's lowest u-value windows, the NTech 0.7 Passive, are triple glazed timber tilt and turn products. The Norwegian firm also supplied balcony doors and sliding doors. The glazing is Super Low E argon-filled and windows are factory painted in RAL colours.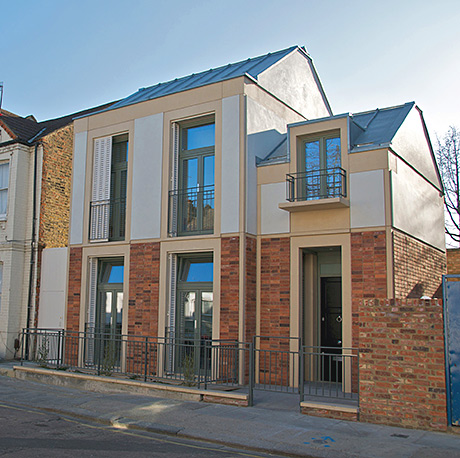 Images – Top, Ground-breaking projects in Inverness and London have both turned to products supplied by NorDan to help meet their u-value targets. Above, The pilot project in London and recently-completed social housing in Inverness.