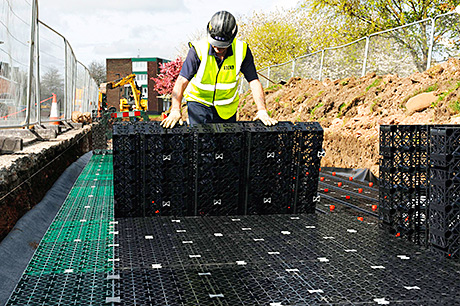 ATTENDING a seminar run by a manufacturer of plastic drainage and water management products paid off for a local authority delegate when he found the solution he needed for a flood alleviation project.
The housing development at Acomb Crescent in Fawdon had previously flooded during heavy rainfall because of the interaction between surface water sewers and the water level in the nearby Ouseburn River.
To help prevent future flooding, the Permavoid system from Polypipe was installed under a recreational area between a road and the river as part of the Defra-funded alleviation scheme. The water management solution comprised a shallow modular cell system, which featured the use of Permavoid Biomat. It was incorporated into the design to trap and retain any residual and emulsified oils that could be present in surface water run-off before discharging directly into the river. Biomat is an important component of the Permavoid system given that the Water Framework Directive dictates that all watercourses must achieve at least 'good' status by 2015.
Because the surface water enters the attenuation system through kerb drainage, the Permavoid cells had to be installed below the level of the road at the same time as being above the normal river level. As the system is designed for shallow applications, the burial depths could be tightly controlled to ensure the optimum attenuation performance was achieved. The units provide storage until river levels fall and gravity discharge can begin again. River water is prevented from entering the system by a non-return valve on the outlet.
John Robinson from the city council explained: "After attending the Polypipe 'SUDS Explained' seminar and seeing first hand their expertise in water management, we decided that they would make the ideal solution provider for this project.
"Acomb Crescent is an area which is particularly prone to flooding, and the available space for a solution posed a problem for us. Polypipe's Permavoid system was ideal for this project and Polypipe's technical team were on hand to design the solution for us".
Meanwhile, Polypipe says it has pushed back the boundaries of product performance, integrity and sustainability with the launch of its New Ridgidrain surface water drainage range.
Products are the result of an extensive 18-month product development and testing programme and form the company's most efficient surface water drainage system to date.
Its optimised pipe profile maximises strength and minimises weight to save resources and reduce CO2 consumption in production, transportation and onsite handling processes. In addition, it is said to be up to 94% lighter than concrete, meaning fewer deliveries to site and improved health and safety.
The range offers specifiers a structured wall product with reduced virgin plastic content and no compromise on performance. It is available as plain ended and integrally socketed pipes, in sizes from 100mm to 600mm in diameter, with a full range of fittings. It can be used in all civils and infrastructure projects wherever traditional Ridgidrain systems are specified, or rigid materials such as concrete and clay.
Features include longer lengths and fewer joints than its clay and concrete counterparts for improved resilience to leakage and root ingress, ability to withstand ground movement and differential settlement, and a smooth bore for easier maintenance.
Jason Shingleton, marketing and development director, said: "Polypipe's expert teams continuously explore new ways to meet the needs of the construction industry and where performance criteria and standards allow, we always maximise the sustainability of our products by using post consumer plastics in their manufacture.
"We are delighted to add the New Ridgidrain, with its perfect blend of technology and sustainability, to our long line of innovations and continue to invest heavily in research and new production technology to offer customers products which benefit the environment while meeting all of the performance demands of today's civils and infrastructure projects."
The company says the new product is effective for non-pressure surface and sub-surface applications including highways, rail and airport infrastructure, agriculture, sports and leisure, schools, commercial and industrial. And as part of continuing focus on sustainable processing technology, it has appointed a full-time materials manager to ensure the quality of the raw material.
Polypipe's Ridgidrain pipes can be installed for highway, rail and airport infrastructure projects as a direct alternative to concrete and clayware pipes.
Images – Top, the flood alleviation project in Newcastle and above, Polypipe's New Ridgidrain "pushes back the boundaries".