Industry aims to slash emissions by 81%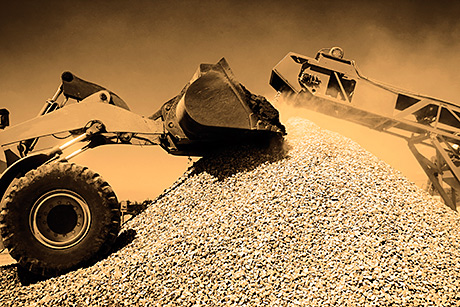 UK aggregate and concrete sales may have fallen to their lowest levels for many years but that hasn't stopped the body representing UK raw materials producers laying out a road map to slash its greenhouse gas (GHG) emissions.
The Mineral Products Association's (MPA) ambition to cut emissions by 81% are set out for the first time in a document explaining what its members must do to exceed the UK Government's target of an 80% reduction by the year 2050.
However, publication of the GHG targets comes at a time when the sector is experiencing significant decline in sales as a result of the continuing slump in construction and civil engineering.
The MPA's latest data indicates a fall of 9% in sales of aggregates, cement and ready mixed concrete and an 18% decline in asphalt sales, prompting chief executive Nigel Jackson to call on the UK government to accelerate delivery of infrastructure projects.
"This [2012] was the lowest year for aggregates and concrete sales since 1965," said Jackson.
"We welcomed the increased funding for construction announced in the Autumn Statement but these increases are less than the volume of construction lost in 2012. In these circumstances it is now critical that we see real and accelerated delivery of the huge backlog of outstanding infrastructure projects."
The MPA says its results are based on actual sales volumes recorded by a high and representative sample of industry companies and illustrate the reality of construction markets in 2012 "as opposed to sentiment and speculation".
It argues that aggregates, asphalt and concrete are by far the largest elements of the construction supply chain and a decline in mining and quarrying and construction activity is causing a major drag on the UK's economic output.
It also points out the close link between asphalt sales and road maintenance and construction arguing that the recorded 18% reduction in sales is evidence of funding constraints on local authorities that has contributed to a decline in road construction.
It highlights detailed construction output data for the first nine months of 2012 that reported a fall of 44% compared with the same period of 2011.
Jackson added: "There has been enough discussion of the need for more and better infrastructure whether for housing, energy, utility or transport and the financing required. This is all now recognised and accepted. 2013 has to be about delivery, delivery, delivery.
"MPA maintains its offer to work with all arms of government to help secure the growth we need to turn the economy around."
Against the backdrop of the challenging economic climate, the MPA will continue to strive to reduce its carbon footprint, according to Dr Pal Chana, the organisation's executive director, who said the industry would look to use "every means possible within strict environmental controls and technical standards requirements" to meet its goals.
Measures it intends to take include greater use of waste derived fuels instead of virgin fossil fuels, biomass fuels that are carbon neutral, lower carbon cements that contain less 'embodied' CO2 and reducing levels of cement clinker in finished cements with lower carbon substitutes.
The document warns success will depend on the industry capitalising on breakthrough technology in carbon capture and storage as and when it becomes available and economically viable.
It notes that although some carbon reducing measures are already within the capability of the UK cement companies, others like the decarbonisation of the electricity sector and carbon capture and storage are not in the industry's control and, as such, it is important that others, including the government, play their roles.
"Without effort on those elements that are out of our control, we still anticipate being able to reduce our GHG footprint by 62% against a 1990 baseline if the market and investment conditions allow," added Chana.
Image – The industry remains committed to reducing its impact on the environment.