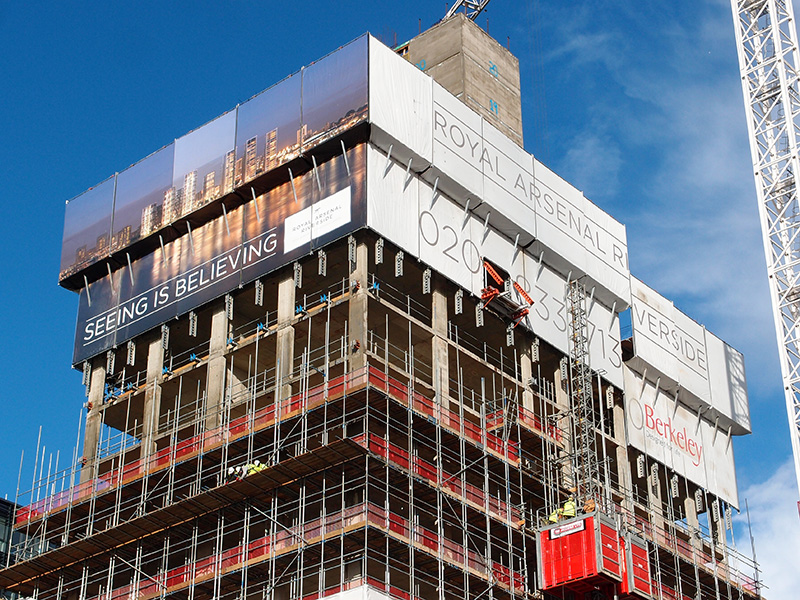 Steve Duthie, associate director at Altrad RMD Kwikform, discusses how temporary works can improve health and safety for site operatives working on high-rise projects
THE construction industry is under incredible pressure to turn developments around quickly, on time and on budget. And, when considering the sheer scale of a project, tight timeframes and the number of sub-contractors and teams all working under this kind of pressure, it is clear to see how potential safety risks can arise.
Increasing urbanisation and acute demand for new homes and workplaces within our cities is driving an upturn in the construction of high-rise and other tall commercial buildings, with people looking to the sky for answers to the shortage of space. High-rise construction is now an accepted model for managing the increasing number of city dwellers, as more than one million people worldwide move to cities every week.
The Council on Tall Buildings and Urban Habitat publishes an annual report, which examines all projects completed that are at least 200 metres tall. It found that worldwide there were almost 147 buildings of 200 metres' height or greater completed in 2022, a 25% increase from 2021.
With the number of high-rise projects increasing, there is a need for safer methods of construction to be introduced. Many modern formwork and falsework systems often have integrated safety features – such as working platforms that are protected and sealed off during lifting – but features like this are not generally prioritised. Indeed, it is often the speed of erection, ease of installation and the total labour hours required that are ranked as more important. However, contractors would clearly benefit from prioritising health and safety features of equipment.
Mitigating risk
There are plenty of potential risks to consider with construction in high-rise buildings. In inner-city areas where there is limited space, pedestrian walkways on the edge of a site need to be protected from falling objects, while on the construction site, workers on the ground must be kept safe from building work that is taking place above them.
On the other end of the spectrum, falls from height are the main causes of fatal accidents for those working in the construction industry in the EU, while there is also the issue of ensuring neighbouring buildings are not damaged, or a contractor could be faced with a costly penalty and dispute.
Debris netting, generally made from a heavy-duty plastic, is a typical solution used to protect people from falling objects. In the UK, the Work at Height Regulations 2005 states that where public access to a potentially dangerous area is necessary, debris netting must be used to catch falling materials. For some projects, netting alone will be enough. It provides safe containment of debris, while its versatility means it is easy and economical to handle. It can also hang vertically or horizontally to achieve coverage and allows air movement to help reduce wind loading.
However, workers are exposed to some harsh conditions when operating on a high-rise building some 20 storeys up, and protection from the elements can go a long way toward not only a safer job site, but a more productive one. That is where movable perimeter protection systems come in.
More so than debris netting and other perimeter protection, these systems attach to the outer edge of slabs and are moved up as construction progresses. They provide an enclosed platform around the building so workers are protected from the wind and cold, allowing work to proceed in harsh conditions. The need for safety harnesses to prevent falls is also reduced.
As the working level is completely sealed off, the possibility of tools, materials, or debris falling from the building is also eliminated. Shored floors are kept warmer in winter and cooler in summer to allow for better concrete curing, and this system also allows for the placement of exterior billboards on a building under construction to promote the project, or other advertising.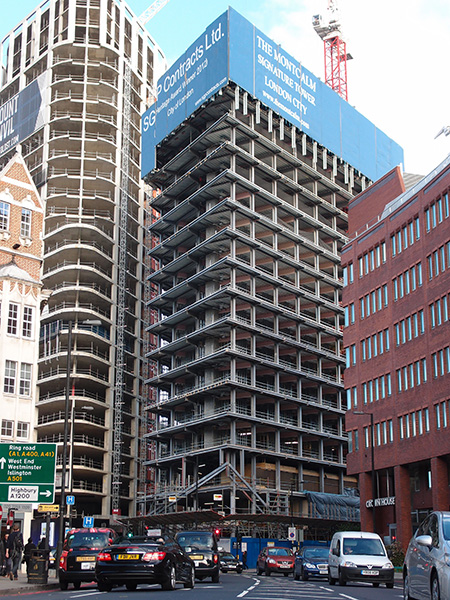 Safer solutions
For those involved in high-rise construction projects using formwork and falsework systems, multi-level safety screens – which give access to the building façade below the wet deck level – are seen as playing a key role in improving construction safety. These systems deliver both safety and productivity benefits, helping to speed up working cycles on the façades too.
When it comes to the issue of debris falling during high-rise working, safety screen systems are the most popular solution. Debris skirts and standard edge protection systems with toe boards are considered the most important preventative measure, and the latest debris protection innovations can help dramatically improve health and safety for those on site.
One feature is the use of slab jaw brackets that, once opened, allow screens to be removed without having to lift the system up the building. This not only reduces the crane height required but helps minimise the use of cranes altogether for this job, further increasing on site safety.
Ultimately, both contractors and individuals need to work together to ensure health and safety risks are managed and prevented, while upholding best practice at all times. Contractors should empower individuals to ensure on-site health and safety is consistently championed, while individuals should take responsibility of making sure rules and regulations are adhered to. By considering some of the latest health and safety features available for temporary works systems, a safe site can be assured.
• To download the report, 'High-rise Construction: Driving Safety & Productivity', please visit www.rmdkwikform.com/systems/high-rise-construction.