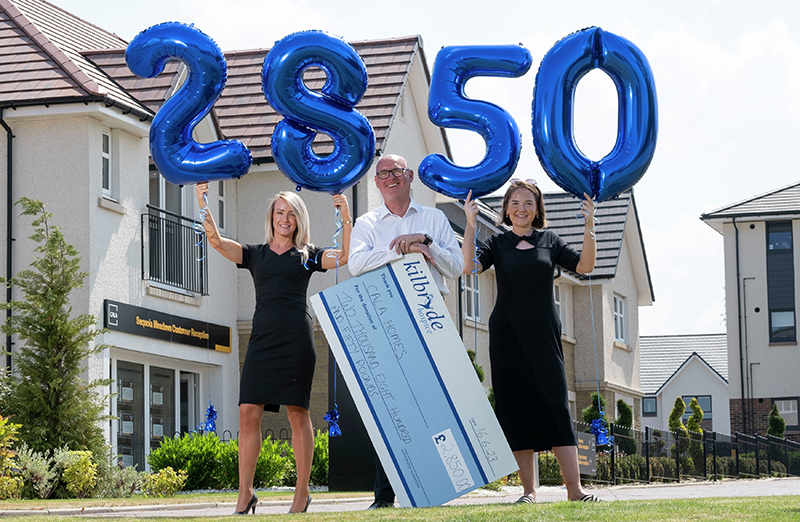 CALA Homes (West) has donated £2,850 to Kilbryde Hospice as part of the company's roof donation pledge at its Jackton development near East Kilbride.
To celebrate the launch of Sequoia Meadows in Jackton in 2021, the housebuilder agreed to support the hospice with a 'roof donation' for the completion of every home.
Two years on, with many residents now living in the new South Lanarkshire community, Cala has handed over its first cheque to the hospice. The scheme sees the firm donate £50 for every legal completion of a home at Sequoia Meadows, which is only a short drive away from Kilbryde Hospice.
The funds will go towards supporting the charity's services which include providing palliative care to those with debilitating, life-limiting and progressive illness as well as supporting their families and carers.
Liana Canavan, sales and marketing director at Cala Homes (West), said, "The work Kilbryde Hospice do for those in the Jackton and East Kilbride community, and further afield, is incredible and invaluable to those in the hospice and their families. Our 'roof donation' partnership gives us the opportunity to help and support where help is needed and drip feed funds throughout the lifetime of our development allowing the team at Kilbryde Hospice to channel the donations to their most urgent projects at any given time.
"It also gives buyers the opportunity to benefit a worthy local cause with the donation coming from Cala on their behalf which is a lovely bonus."
Gordon McHugh, chief executive at Kilbryde Hospice, added, "Cala Homes (West) is a natural choice for Kilbryde to partner up with. With the Sequoia Meadows development directly on our doorstep it demonstrates Cala's commitment to bring meaningful value to the community by investing in supporting local needs. With Kilbryde Hospice being at the centre of the community we are truly grateful to the support we are receiving."