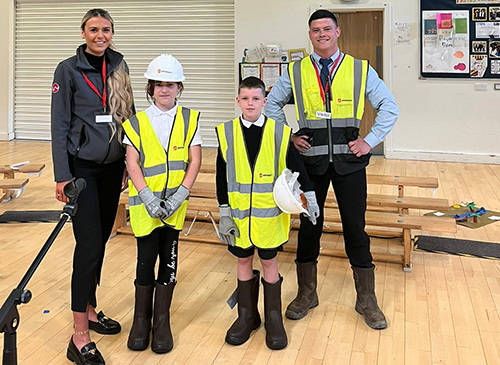 THE team from Whiteburn's development in Burntisland, The Grange, recently visited Burntisland Primary School to give a safety presentation and remind pupils about the potential dangers of construction sites.
The visit included an opportunity for the children to learn more about the on-site health and safety measures, the types of machinery they might see working at the site, and the chance to try on some of the safety gear the operatives need to wear.
Eve McCurrich, MD for Whiteburn, said, "Our key objective is to engage with the local community and broaden awareness of the industry, realise the potential of this development and to create a great place for people to live in Burntisland. But we're also mindful that we want to be more than just a developer, we also want to be part of the local community.
"Visiting Burntisland Primary School was an ideal opportunity for us to do that, we love the opportunity to present to local children, while also making sure that our message to never play near a construction site was shared in a positive, constructive and fun way."
Whiteburn is working with Ground Developments Ltd to deliver the development of 12 homes. Eight of the homes at The Grange are bungalows.