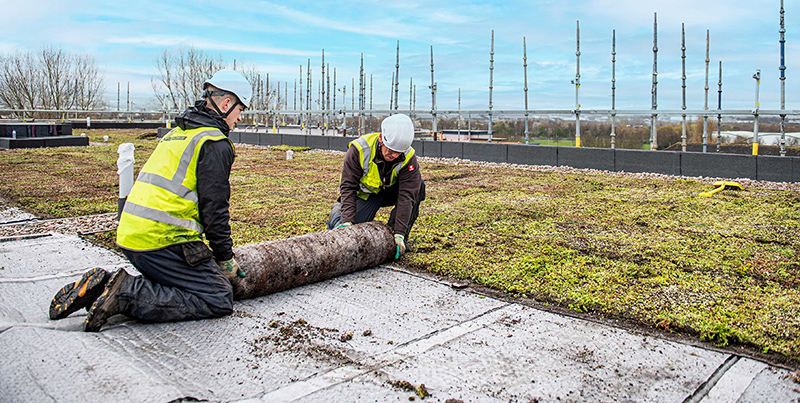 DEVELOPER Artisan Real Estate has revealed that more than 1,000 square metres of living 'green' roof has been laid on top of Rowanbank Gardens in Corstorphine, Edinburgh.
The natural sedum roof is described as one of the largest ever to top a residential apartment building in the city and is the latest innovation to be added to the development, which has been hailed as a 'spectacular blueprint for low carbon living'.
Sedum are flowering succulent plants with a host of natural properties said to make them ideal for roof greening. The plants are virtually self-perpetuating and drought resistant, with shallow roots requiring very little soil in which to grow. Once in full bloom, sedum roofs provide natural insulation, drainage and protection from the elements whilst encouraging increased biodiversity.
David Westwater, Artisan's development director for Scotland, commented, "It's wonderful to see such an expansive green and natural space being rolled-out in front of our eyes, surrounding the spectacular penthouse apartments at Rowanbank Gardens. It provides another important statement of intent, underpinning our commitment to raising the benchmark of environmental standards across all our buildings – both inside and out.
"The sedum roofs will attract plant, insect and bird life which are encouraged with natural inducements such as wild-flower planting, beehives and roosting sites. We will also be working with residents and the local community to explore the potential of hosting bee hives on the apartment roofs.
"We want to create external environments which are both in tune with nature and instrumental in bringing residents together.  We are also planting 150 new trees, plus herb and vegetable growing beds and more than 500 metres of evergreen hedgerows. Rowanbank Gardens' residents will also be able to grow their own herbs and vegetables together in raised growing beds as well as being able to harvest cherries and apples from almost 30 fruit trees."
More than a third of apartments at Rowanbank Gardens have now been sold. The project will deliver 93 apartments for private sale set around a large garden space filled with fruit trees and communal planting beds. Work began in summer 2021, with the first move-ins expected by the end of the year.