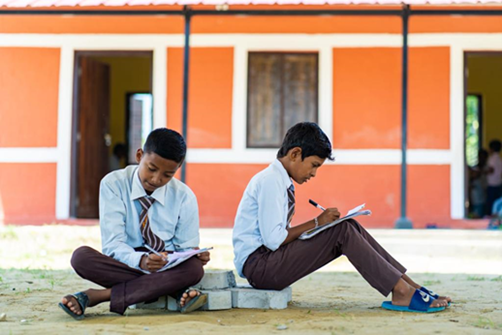 STAFF and students of the University of Strathclyde have helped rebuild a Nepali school that was destroyed by an earthquake and flooding in 2017.
A plan to utilise the skills and expertise of engineers and architects at the Glasgow university was drawn up by Christine Donald, international recruitment advisor at the university, who is a regular visitor to Nepal.
It led to the rebuild of Pashupati Mandir School in Fenhara Village, which has 61 students on its roll from the local Dalit and Janjati communities. One of the teaching blocks at the school had been completely destroyed and the remaining building was unsafe, with a leak in every classroom.
Christine's plan was to build seven earthquake-proof classrooms across three buildings, and one toilet block complete with water tanks and drainage system, as well as a water supply with taps, pump and treatment plant for washing and drinking.
Money was required to realise the vision, with Christine fundraising, as well as recruiting family, friends, and colleagues to take part in a variety of events. In 2018, she and five friends undertook a sponsored six-day walk along the 100km of the Camino de Santiago, which raised £23,000.
The 'Walkers for Nepal' group also included Lady Eileen McDonald, ambassador for Strathclyde Engineering for Development; Helen Cockcroft, a supporter of the group's projects; Helena Gleskova, a senior lecturer in the department of electronic and electrical engineering; and Strathclyde alumna Lakshmi Iyer and her brother Krishna, who joined the group from India and the US respectively to take part.
Christine's extensive network of contacts also came into its own as they responded in numbers to her appeals for help. Everyone from her young neighbours Calum and Eilidh Dolan – who raised £900 on a sponsored cycle in 2020, aged 9 and 7 at the time, and were thanked for their efforts by former Prime Minister Gordon Brown – to an old friend who pledged to match-fund donations up to £5,000, contributed to her Great Nepal Challenge, as well as various other events over the years.
An annual Christmas card competition, where pupils from Jamnabai Narsee School in Mumbai, India, designed cards that were printed free-of-charge by J Thomson Colour Printers in Glasgow, saw Christine sell them to friends and family to raise funds.
In total she helped to raise £98,000 for the project, which included a 'substantial' donation from the University.
The university explained that managing the project remotely and dealing with government bureaucracy was 'challenging', but thanks to Christine's tenacity, planning permission was obtained and the work commenced in early October 2021.
Because of the travel restrictions the services of a local not-for-profit social enterprise – Community Impact Nepal – was secured, and using local materials and labour, the project was completed in December 2022.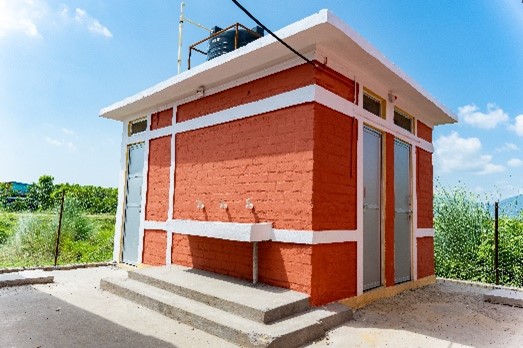 The buildings were constructed using innovative interlocking bricks made of earth – making them eco-friendly, sustainable, and earthquake resistant. In addition the bricks provide better insulation, are cheap to make, quick to construct and three-times stronger than fired bricks.
The school grounds were landscaped with 150 mango and rosewood tree saplings and paved with sustainably-made earth tiles.
The project has had a huge impact on the local community. One of the school teachers said, "The condition of the old school was very bad. It was difficult for children to study.  The school became very hot in summer; children were suffering from heatstroke."
Pupil, Krishna Chaudhary, 13, added, "The new school is cool even in summer.  I used to cry when I came to school. Now I am very happy.  I want to come to school every day."
Christine commented, "We are all delighted that the school is now up and running. The pupils are so happy with the new buildings and the school roll has increased substantially.  We are hoping to keep supporting the teachers and pupils at the school into the future.
"The project engaged the local community, all the construction spend was retained in the area, and it helped local people gain employment, develop useful skills and improve the quality of their built environment.
"I'd like to give my sincere thanks to everyone for the running, walking, cycling, encouraging and donating that made all of this possible."