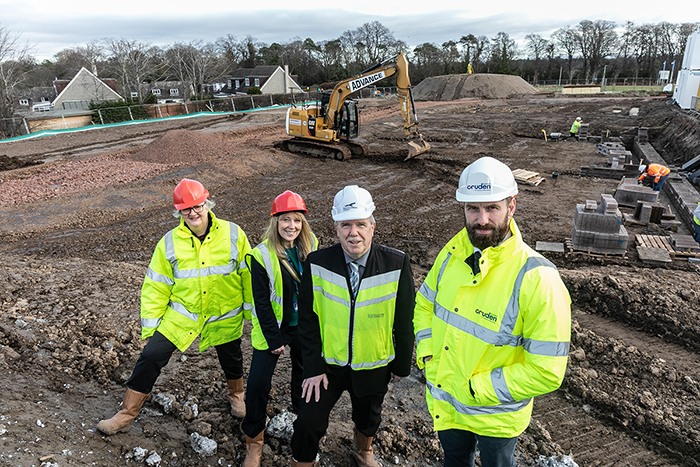 30 council flats and houses are under construction in Pencaitland, East Lothian. The homes are the first new council properties to be built in the village since 1985.
Cruden Building Scotland has started work on the homes, which are funded by East Lothian Council's capital investment programme and the Scottish Government's Affordable Housing Supply Programme.
The development, off Lempockwells Road, will feature a mix of house styles including family cottage flats, terraced and detached homes, ranging in size from one to three-bedrooms.
Cruden revealed that each home has been designed in accordance with Secured by Design standards and will be built to 'Housing for Varying Needs' criteria, providing tenants with the flexibility and space they need to grow in years to come.
Councillor Andy Forrest, cabinet spokesperson for housing and property maintenance, said, "I'm very pleased to see new council homes being built in this popular village where there is a strong demand for new social housing. Our last development here was at Woodhall Place in 1985 so it will be fantastic to welcome new tenants to Pencaitland.
"It's also really important, particularly due to rising energy costs, that these homes are being built in a highly sustainable way and will include features like air source heat pumps and high quality insulation, which will help the new tenants cope with the general cost of living increases."
The Lempockwells site will undergo landscaping to include greenery and open plan spaces. Residents will be able to make use of communal car charging facilities, car parking and recycling storage areas. A sustainable urban drainage system, shared by the neighbouring site, is being used to manage surface water run off.
Allan Callaghan, MD of Cruden Building, added, "Starting work on our Lempockwells site is a great milestone and we're delighted to be bringing more sustainable homes to East Lothian to meet the increasing demand of the growing population. This has been a great opportunity to roll-out our fabric first approach and create homes which are more affordable for users, particularly during times when electricity and heating costs are at an all-time high.
"We've put a lot of focus on building a development which is not only attractive and functional for homeowners, but also provides an inviting neighbourhood in which families can interact and make the most of their surroundings. At Cruden, we aim to build communities, not just houses, and we're looking forward to continuing this placemaking approach across future projects."
The homes are scheduled for completion towards the end of 2023, into early 2024.