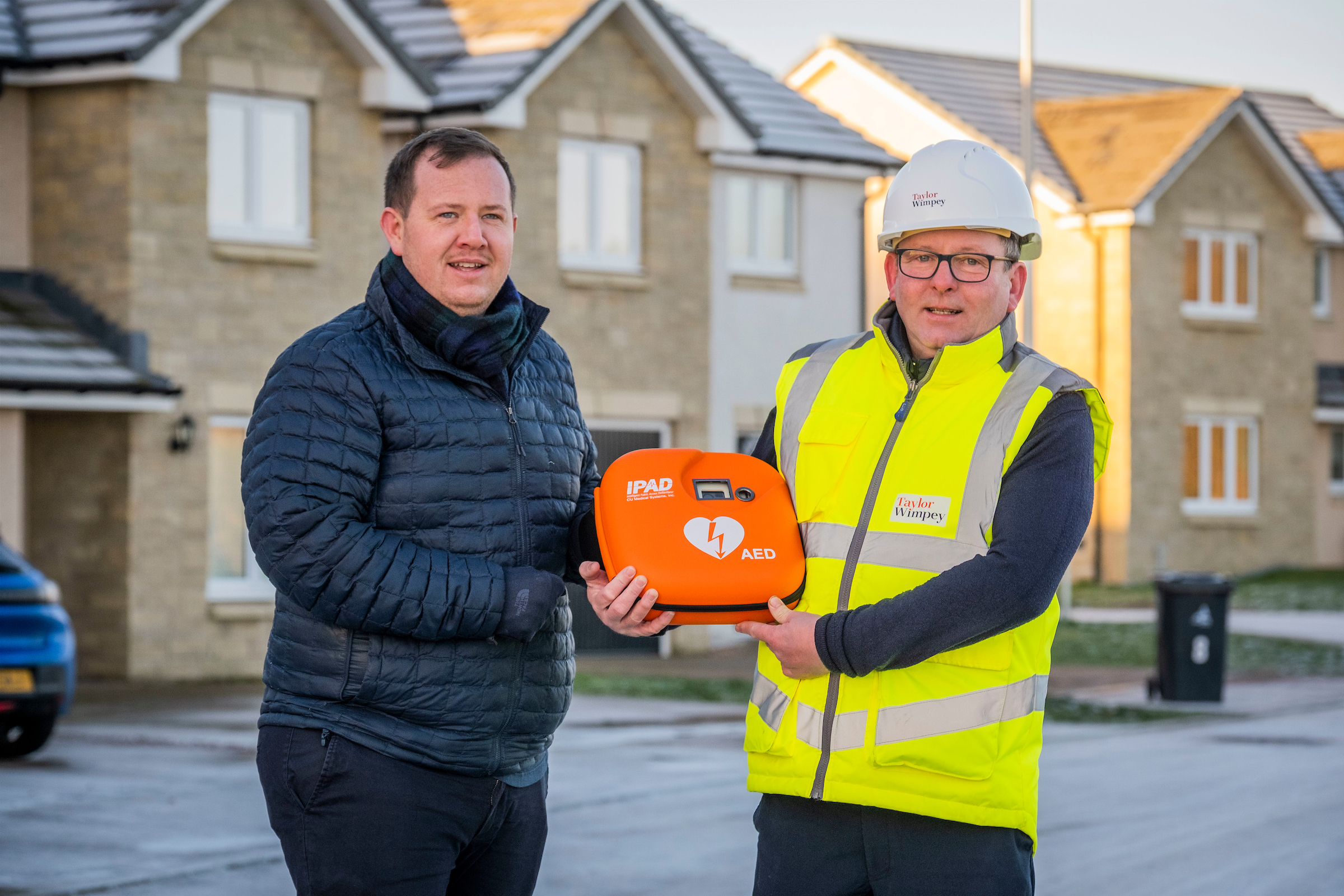 TAYLOR Wimpey East Scotland has donated a public access defibrillator (PAD) to a small sub-group of volunteers within the Monifieth Patient Advisory Group.
It comes after the group started a campaign 18 months ago to install and maintain external defibrillators to benefit the community in the immediate local area of Monifieth.
Taylor Wimpey's donation comes as part of a joint initiative with the British Heart Foundation (BHF), with it donating potentially life-saving PADs to communities across the UK.
During 2019, the BHF worked with Taylor Wimpey to train its employees in CPR skills and to provide every one of its building sites in the UK with a defibrillator. As part of its commitment to leaving a lasting legacy in the areas in which it builds, Taylor Wimpey revealed it is donating the defibrillators to local communities when their developments are completed.
While work is almost completed at the housebuilder's Victoria Grange development in Monifieth, a defibrillator remains on-site. This has been made available to the Monifieth Patient Advisory Group and its sub-group of local volunteer defibrillator guardians who have arranged for it be installed within an external cabinet at the corner of Angus Crescent and Dighty Street.
Deryck Schendel, regional health and safety advisor for Taylor Wimpey in Scotland, said, "It's so important to us that we give something back to the communities in which we're building. Our partnership with the BHF is vitally important in helping to ensure that more defibrillators are available for people who might need them and we are proud to be able to make this equipment readily accessible in Monifieth."
Taylor Wimpey said it has also committed to ensuring all of its defibrillators are registered on The Circuit – the national defibrillator network, which connects defibrillators to NHS ambulance services across the UK, so that in those crucial moments after a cardiac arrest they can be accessed quickly to help save lives.
David McColgan, head of BHF Scotland, added, "Every second counts when someone has a cardiac arrest, and we know that prompt CPR and defibrillation can double the chances of survival in some cases. Increasing the number of publicly accessible defibrillators in our communities – alongside more of us learning CPR skills – can play a vital role in these critical moments. That is why we are delighted that Taylor Wimpey has contributed to the aims of the BHF by making a public access defibrillator available to the Monifieth Patient Advisory Group as part of their wider local campaign. It could help save a life."
Daryl Barr, spokesman for the Monifieth Patient Advisory Group and local volunteer defibrillator guardian, said, "We can't thank Taylor Wimpey and the BHF enough for this defibrillator and its external cabinet. While we hope that it is never used it's fantastic to know that we can access another defibrillator in this part of Monifieth in the event of an emergency and hopefully help to save someone's life. Our sub-group of local volunteer defibrillator guardians have registered the defibrillator on The Circuit bringing our total to seven defibrillators locally, which is fantastic."