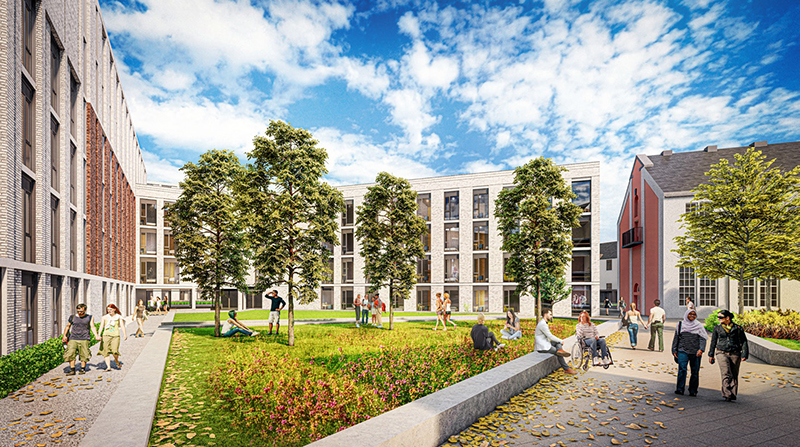 A Scottish Government reporter has granted planning permission for an application by S1 Developments for a new student residential development at Edinburgh's former Tynecastle High School site.
In addition to 468 bedspaces, the original school hall will be repurposed as a central amenity hub, sitting within a courtyard space to provide shared facilities for student residents. Landscaping proposals are said to increase green space across the site by more than 40%, helping to increase biodiversity.
The development has been designed with 100% cycle parking in mind, the employment of low carbon technologies, and no use of fossil fuels.
The reporter noted that the 'development of the site for mainstream housing would be constrained by the presence of the listed buildings', making student accommodation a more viable option. The site was also identified as being more suitable for students 'who would only spend part of their year in residence' and then only for the length of their university or college courses. The proximity of further educational establishments was noted and that the student population in the local area, including the proposed development, would be approximately 24% and therefore not lead to an overly concentrated student population.
The project will regenerate a site that has lain vacant for over a decade and fallen into a state of disrepair. The restoration of the original B-listed school building, designed by John Alexander Carfrae, forms part of the proposals.
Charity People Know How will act as preferred operators for community facilities on the site, with the option for other local community groups to use space.
Dan Teague, director at S1 Developments, said, "We're delighted to have received planning permission for this exciting development. The original school building has fallen into a sorry state since it ceased being a school over a decade ago. Whilst the redevelopment is challenging, our proposed use brings with it an opportunity to save and renovate the original school building and continue its educational use, benefiting the local community.
"The reporter also noted that this was a site more suitable for student housing than mainstream housing due to the constraints of the football stadium and North British Distillery. We look forward to working constructively with the community in delivering this development."