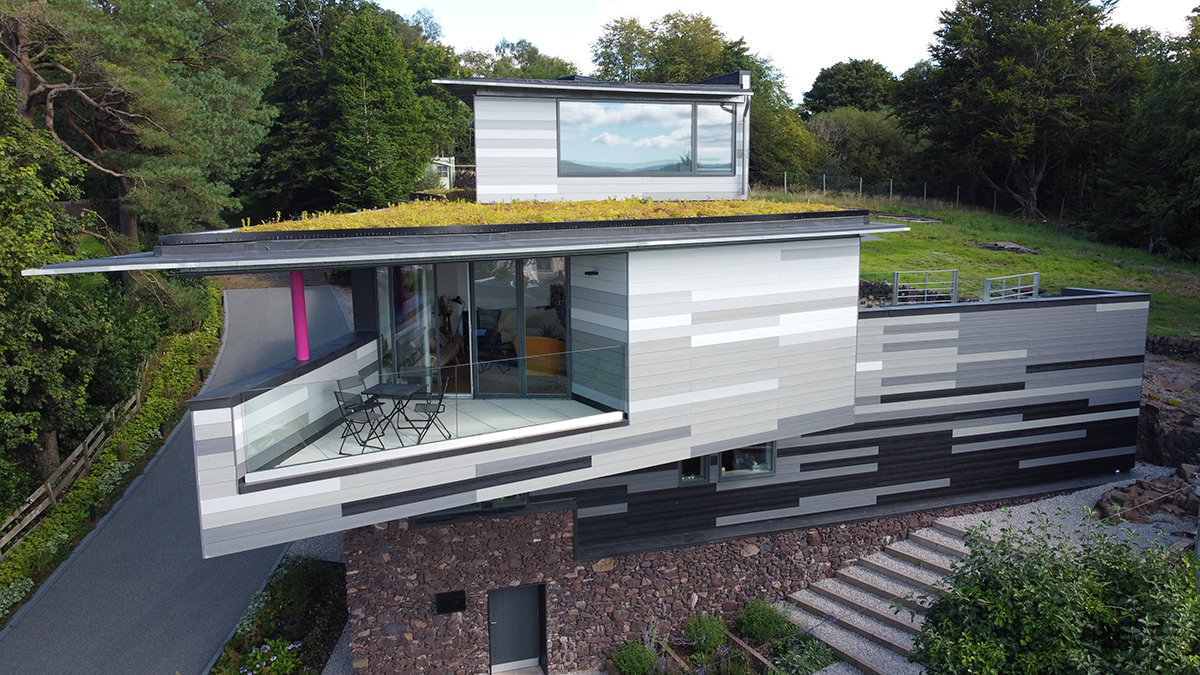 A unique new build home in Kilmacolm has utilised Cedral fibre cement façade to achieve a 'perfect' finish.
Architect Graeme Andrew of ataSTUDIO in Glasgow was commissioned to design a family home in the village. Located on a steep rocky site at the top of a hill, the multi-levelled house has a subtle curve following the road edge and a dramatic cantilever to contrast the rock and capture the spectacular view.
The two-year long build was challenging, but the final piece – the cladding – has been described as 'relatively straightforward'. The desire was for a clean, modern and low maintenance façade. Cedral Click Woodgrain was specified, with the product providing a finish in keeping with its natural surroundings and the modern design of the property.
Graeme said, "We liked the colour choice with Cedral and the fixing method is well resolved for our style of building. We chose Cedral as opposed to stained cedar due to the low maintenance of the sidings and its reliably for not shrinking or expanding over the lifetime of the building."
Paul Gallacher from Cedral added, "Our fibre cement facades offer both contemporary and flexible design options, and is used by many architects and contractors to create remarkable results. This simple combination of wood cellulose, sand, synthetic fibres, water and cement make fibre cement one of the most environmentally friendly and sustainable building products available."