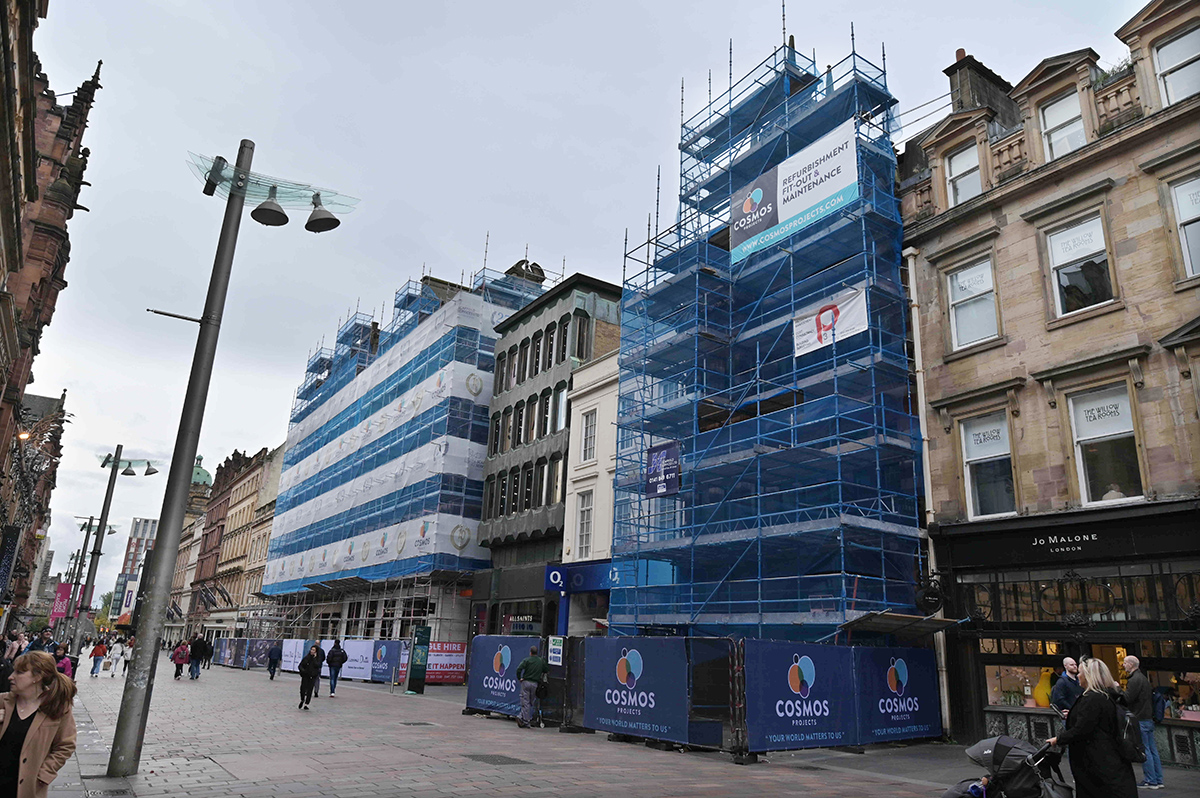 JR Scaffold Services has announced completion of two major scaffolding structure projects to assist in the refurbishment and fit out of two buildings in Glasgow city centre.
The Paisley-based business constructed scaffolds at two sites on Buchanan Street for Cosmos Projects.
At 69 Buchanan Street, around 2,500 square metres of scaffold was required to a height of 24m for 10-week project to provide Cosmos Projects access to all windows and the upper exteriors of the building for refurbishment and maintenance, as well as internal and external fit-out at the project. A small part of Mitchell Lane was also required to access elevated part of the building.
A smaller project at 91 Buchanan Street required 500 square metres of scaffold to a height of around 16 metres, including debris netting and roof edge protection for eight weeks, carried out and erected in conjunction with the other project.
John Jack, contract manager at The JR Group, said, "Any scaffolding project in the city centre will always bring its own challenges and difficulties, including delivery of materials and ensuring we can erect structures safely. However, we were proud to work closely with Cosmos Projects to ensure that we could complete both projects on time and as safely and efficiently as possible.
"We initially surveyed both locations before passing these findings to the estimating department. Scaffold engineers were then required to produce full design drawings for each job, due to the exterior balcony sections of the buildings. When erected at Number 91, we faced this challenge using Cuplok system scaffold along with some beam sections, helping to keep weight off some of these balcony spaces.
"Due to the location on one of Glasgow's most populated high streets, we also wanted to ensure that the job looked good visually, especially at Number 69. To do this, we made use of the Plettac Metrix system scaffold, which creates a neat and tidy scaffold when complete to enable us to complete the works quickly and professionally on Buchanan Street site."