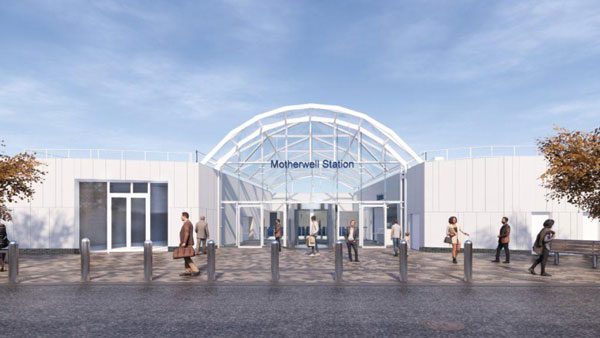 WORK on an 'eye-catching' new glazed dome roof has began at Motherwell Station as part of its £14.5 million refurbishment.
It comes after installation work on a steel structure to house the new expanded station concourse and enhanced forecourt was completed in recent weeks, which allowed main contractor Balfour Beatty to begin works on the new dome roof.
ScotRail said that, throughout December, more than 140 glass panels will be fitted to form the new roof. It added that, once complete, it will allow for a 'brighter and more modern' station.
The station's temporary outside ticket office has been relocated inside the station to allow landscaping and utilities work to take place outside. Further to this, North Lanarkshrie Council is also carrying out work to overhaul the public realm outside the station building to create a new transport hub.
John MacDonald, ScotRail senior project manager, said, "Over the coming months, the station's redevelopment project will see the new domed glass roof installed before work on the interior of the new expanded concourse, ticket office, and retail spaces commence.
"Making rail an attractive option is a key aspect of our recovery from the pandemic, and I believe that the improvements being made at Motherwell station will help to encourage more people back to the railway."
Councillor Jim Logue, North Lanarkshire Council leader, added,"The work at Muir Street will mean improved transport links for everyone using Motherwell railway station and the town centre, on foot or by bus, taxi, bike, train, or car.
"It will create a new access road and footpath from Hamilton Road, an expanded bus stop and improved shelter, a drop-off point, facilities for taxis, and blue badge parking spaces.
"Combined with ScotRail's major work to the station itself, this project will provide the transport facilities and links to meet the needs of residents, businesses, and visitors as well as helping to reduce carbon emissions and achieve our net zero ambition by 2030."