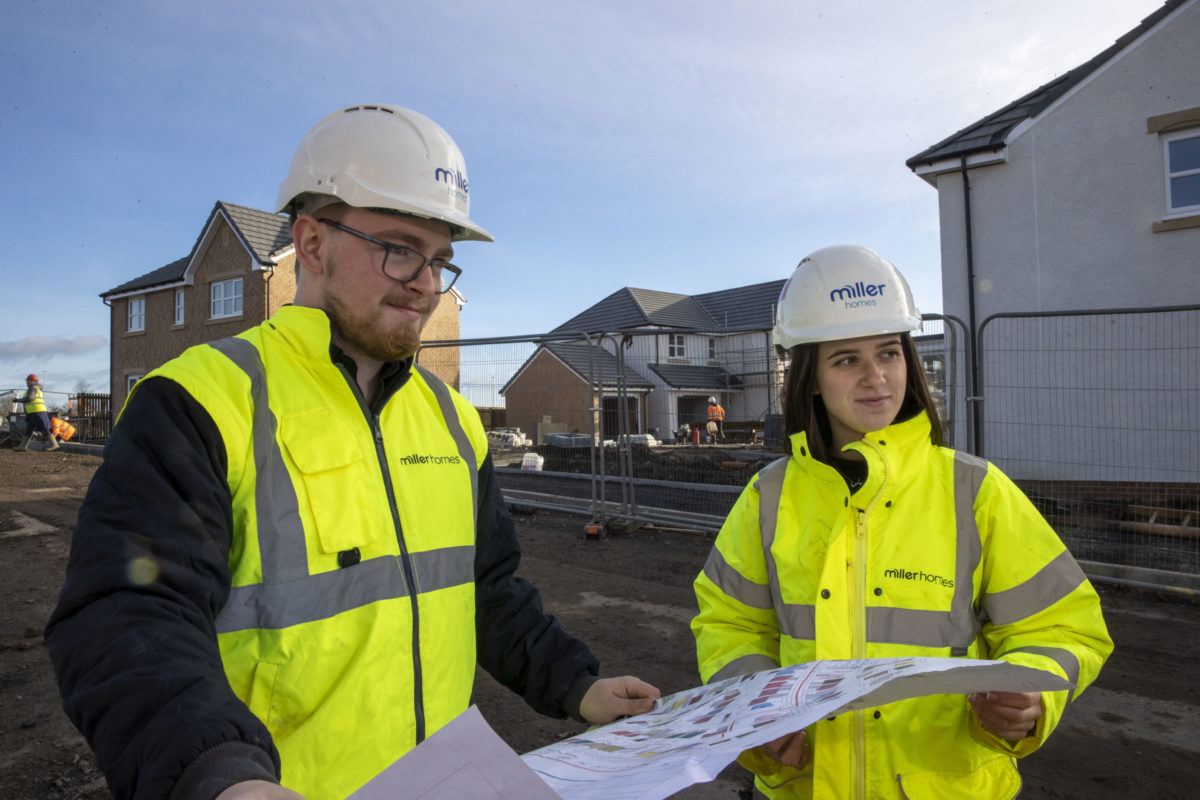 TO mark National Apprenticeship Week, Miller Homes has highlighted two of the firm's trainees currently operating in the west of Scotland.
Emily McNeice (20) and Brogan Dawson (20), both from Glasgow, are more than halfway through their apprenticeships with Miller Homes Scotland West.
Emily, a trainee surveyor, spends four days a week in the housebuilder's Glasgow office, where she is learning about the job of a quantity surveyor and gaining experience from being around her peers. She then spends one day a week learning the educational theory related to building and civil engineering projects at Glasgow Caledonian University.
"My favourite part about working for Miller Homes is the people," Emily explained. "I have a great relationship with the team, and there is always an experience to be shared on a day on-site.
"My colleagues are constantly looking for ways to support my learning and help me further my knowledge in the sector. It has been essential to my development, and I have applied this knowledge to my field of studies.
"There are many aspects of the role I enjoy, from being on-site with the team and assisting the management of building costs on each project, ensuring the job is delivered within the allocated budget and delivering the five-star customer service our buyers expect to receive. One of my favourite aspects of the job is negotiating prices with our subcontractors – quite a tricky skill to finesse."
Brogan Dawson, a technical trainee, spends his days working with the team, assisting and reviewing the architectural angles of developments, site layout, the home design and ensuring the building aspect is kept on track and timing goals achieved. 
He said, I'm currently working on Ellismuir Gardens in Broomhouse. I undertake a number of architectural drawings and liaise with the local authority to ensure everything runs smoothly on site. I thoroughly enjoy the creative aspect of my role and mapping out these new communities."
When asked what he loves most about working at Miller Homes and in the construction industry, he said, "There are many aspects I love: the team, the role itself and the environment. Sustainability is another aspect I have been very interested in throughout my studies and during this apprenticeship. My passion for building is so strong that I often find myself landscaping and planning in my downtime."
Miller Homes asked Emily and Brogan for some advice for school leavers who have been considering an apprenticeship role within construction or are uncertain about what they wish to do after school. 
Emily said, "I was really unsure of what I wanted to do after getting my Highers and didn't know if construction was for me. I took a leap of faith and applied to the apprenticeship programme with Miller Homes, and the rest is history. I feel extremely happy in the role and can't wait to be fully qualified next year.
"The apprenticeship hasn't come without challenges, and juggling work and study can be a little tricky to navigate at first. The benefits certainly outweigh the small challenges, and I am so glad I decided to pursue a career in this sector. I would advise anyone who is on the fence to hop on over and give it a go!"
Brogan added, "I discovered my apprenticeship at school after talking with my career's advisor. During this process, I was given a few apprenticeship scheme options, and Miller Homes was the frontrunner. The apprenticeship programme is extremely rewarding and it's great to be part of the team building someone's dream home.
"At first, four years seems like a daunting period of time, but if you know you want to do it and have a genuine interest in the subject, I'd urge you to just go for it."