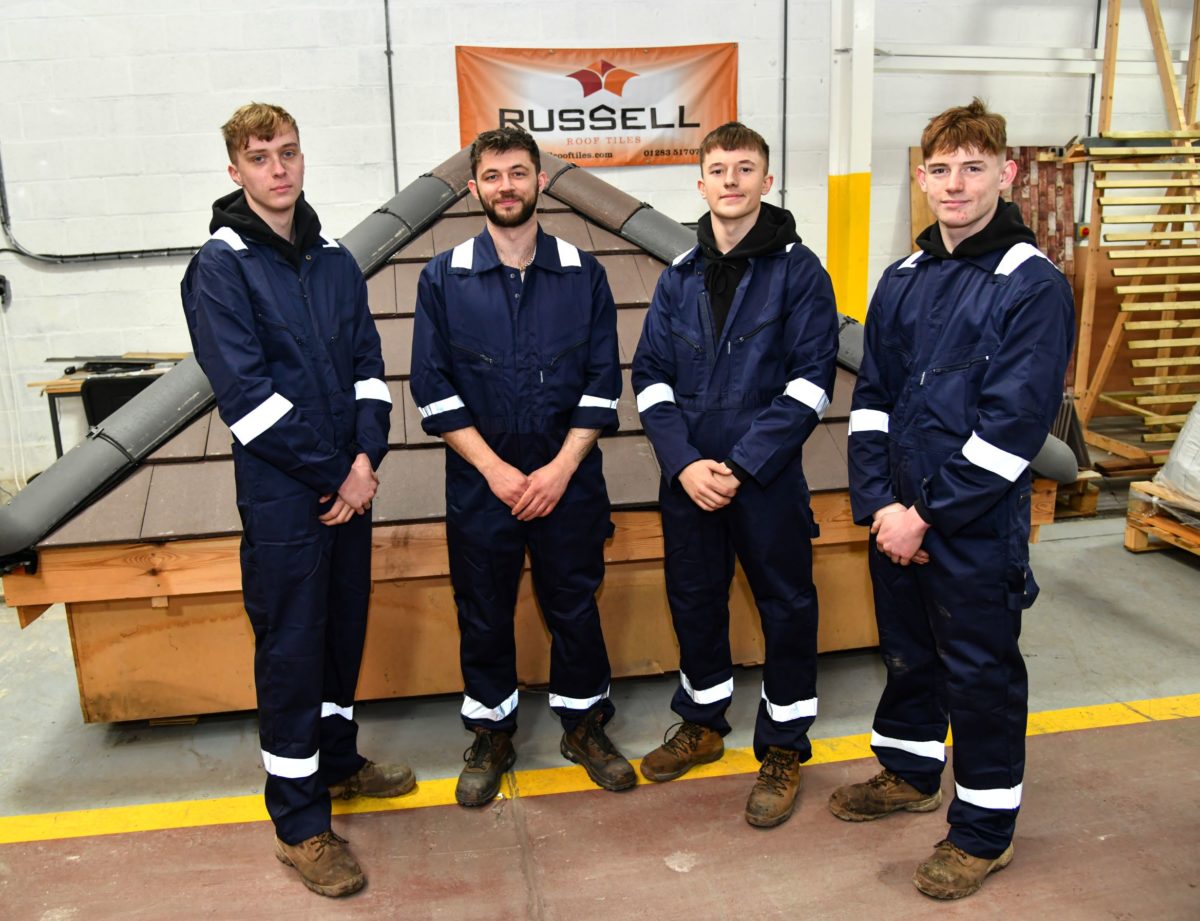 MANUFACTURER Russell Roof Tiles has revealed it believes attracting young people into the industry is 'essential' to tackle skills shortages.
The business has highlighted three individuals recruited by Otto Mathiesen, maintenance manager at the firm's Burton on Trent concrete site.
Liam Harrison, Shaun Large and Zane Poulton, all aged 16-17, have joined the Russell Roof Tiles team as maintenance apprentices.
Otto said, "I am excited to have Liam, Shaun and Zane join the team and to be able to support them in their careers. They are incredibly hard-working, ambitious and are dedicated to learning as much as they can, which makes me so proud of them already. It is wonderful to see them all settling in so well and gives me a real buzz."
Having started his own career as an apprentice, Otto added that he would encourage others to consider careers in engineering with an apprenticeship.
"I'd encourage young people to think about apprenticeships as it's a fantastic way to get real hands-on experience in the industry," he explained. "I am delighted that Russell Roof Tiles is leading the way in the drive for younger talent in the sector. They are ultimately the future and also a great way to begin tackling the skills shortage gap the industry is facing."
One of the apprentices, Zane Poulton, added, "I am really enjoying working at Russell Roof Tiles and learning from Otto and the rest of the team. Otto is a great teacher and the support from the entire team has been incredible."
Shaun Large commented, "Doing an apprenticeship with Russell Roof Tiles is great. I am learning as well as getting hands on experience which I am really enjoying."
Liam Harrison echoed those sentiments. He said, "I am really glad I chose to go into engineering and particularly through an apprenticeship with Russell Roof Tiles. I am constantly learning and being challenged and engaged. It's great."
Andrew Hayward, MD at Russell Roof Tiles, commented, "We are committed to taking on talented, ambitious apprentices and help them to thrive in their careers. We are so pleased that we can support Zane, Liam and Shaun in their journey in the industry and are equally eager and always want to hear from anyone interested in a career in manufacturing."
For more information about apprenticeships at Russell Roof Tiles, visit https://www.russellrooftiles.com/careers/apprentices/