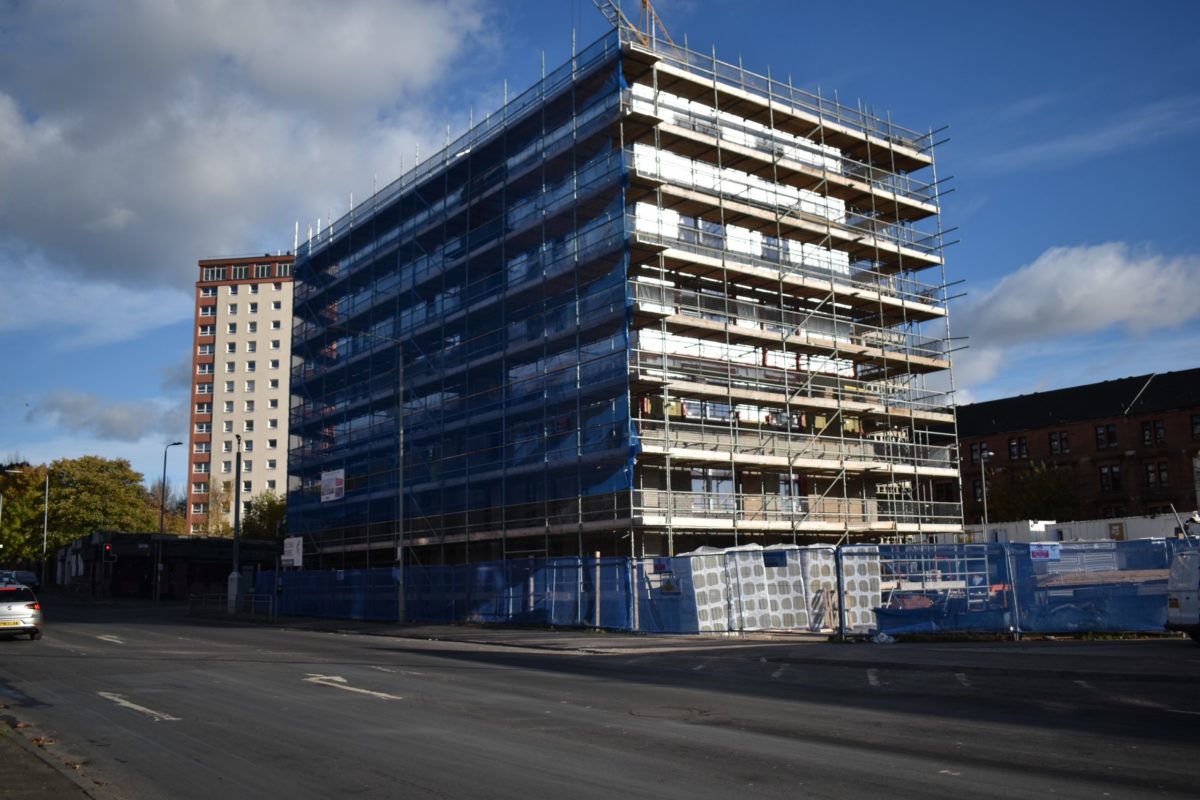 A new Glasgow east end project, hailed as one of the city's most energy efficient, is starting to take shape.
Springfield Cross, located in Dalmarnock, comprises 36 one-and-two-bedroom flats for social rent and is being delivered by CCG (Scotland) in partnership with hub West Scotland on behalf of West of Scotland Housing Association (WSHA).
The development is being constructed to Passivhaus standards, featuring high levels of airtightness to reduce heat loss as a result of using advanced construction methods, thicker insulation and triple-glazing.
CCG MD, David Wylie, explained, "Springfield Cross is being constructed using CCG's specially-designed 'iQ' timber system which is also integrated with our enhanced window and door sets; products that are each manufactured just 2.5 miles from the development.
"We utilise an offsite manufacturing process to combine these products together with components such as internal wall linings and insulation to complete entire wall zones before being transported to site. Through this process, which is extremely low-waste, uses responsibly-sourced timber and requires fewer vehicle movements, we are helping to lower carbon emissions at each stage of build. This is known as embodied carbon and when combined with the significant reduction in operational carbon emissions attributed to Passivhaus, we are ultimately reducing the carbon footprint of the development for the entirety of its lifespan."
Jonathan Potter, project architect and senior partner of Robert Potter & Partners, added, "Designing to meet certified Passivhaus standard provides easy-to-heat, comfortable houses for residents as there are no draughts or cold bridges. Each flat only needs a heated towel rail and a small radiator as the heat gains from residents, fridge, TV are all captured and recycled.
"Passivhaus also means efficient ventilation, good indoor air quality, even temperatures, and triple glazing for quieter homes. The independent certification supports high quality workmanship, and ensures the building performance meets the design predictions. Springfield Cross also meets The Glasgow Standard of space and flexibility for residents."
Andrew Kubski, director of development and asset management, WSHA, said, "We are delighted to be making progress to deliver Glasgow's largest Passivhaus development.  These new Passivhaus homes will be created to achieve one of the highest standards of energy efficiency which will lead to lower fuel bill for tenants and help to address fuel poverty. With the eyes of the world on Scotland as it hosts COP26, it is the perfect time to reflect on how the housing sector can play a part in tackling climate change and creating greener communities. Our Passivhaus developments are a key part of our Green Strategy which highlights how we will achieve a greener and more sustainable future in the coming years."
Iain Marley, hub West Scotland CEO, added, "Springfield Cross will offer very energy efficient and high quality accommodation to tenants in the east end of Glasgow. This leading edge development provides 36 one and two bedroom flats that are built to Passivhaus specifications – as such it will make a significant contribution to addressing fuel poverty and meeting net zero emissions targets."
The project is funded by £4.3 million of grant funding from Glasgow City Council's Affordable Housing Supply Programme and WSHA's private finance. Springfield Cross is due for completion in summer 2022.