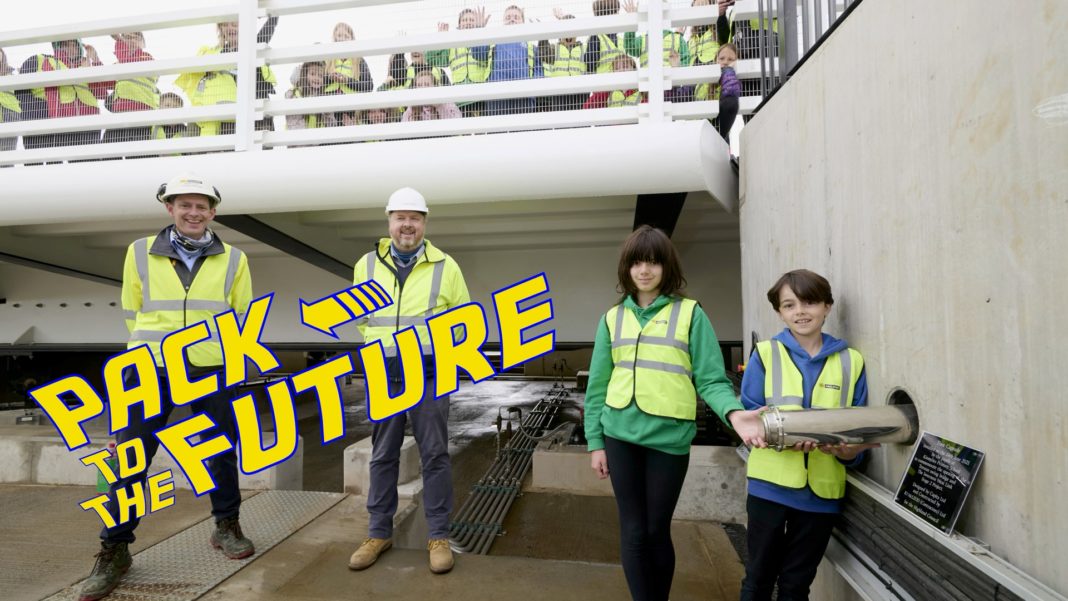 A time capsule has been placed in Inverness West Link's new Torvean swing bridge by school pupils.
Pupils from Kinmylies Primary School were assisted by Steve Scott, of contractor RJ McLeod, and the Highland Council's senior engineer, Iain MacLennan, at the ceremony.
The time capsule is intended on giving those in the future an insight into what life was like during the Covid-19 pandemic. Items such as hand sanitiser, pupil reflections on life at the time and a school jumper are included in the capsule.
The swing bridge represents a 'core element' of the West Link project, which is now drawing conclusion. The development has seen the completion of the link from the Southern Distributor Road at Dores Road to the A82, including crossing the River Ness on the New Holm Mills Bridge; a new sports facility at Canal Parks; and a relocated golf course.
The Highland Council said that the West Link Project will reduce congestion; encourage cycling; improve journey times to and from the city centre; enable the development of 'significant' housing and other economic developments at Ness-side and Torvean; and enable the development of a city gateway at the Caledonian Canal entrance to Inverness.
Councillor Trish Robertson, chair of Highland Council's economy and infrastructure committee, said, "It was a special day today for the pupils at Kinmylies Primary as they posted their message to the future at Torvean Bridge.
"It's such a wonderful thing to do and it will certainly be interesting for the generation that eventually uncovers the capsule. They will get an insight into life in Inverness around this time, particularly as the past year and a half have seen the country go through a global pandemic."