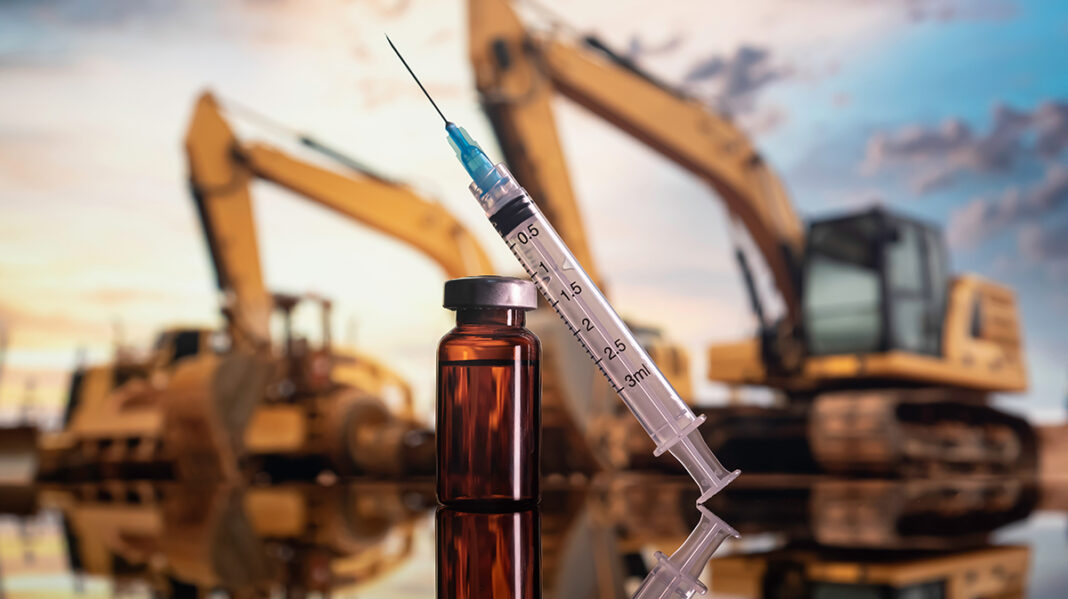 SCOTLAND'S construction workers look set to have to wait their turn to receive the Covid-19 vaccine despite the majority of sites remaining operational amid the latest lockdown measures.
People across the country are hoping the Covid-19 vaccine rollout will provide a route out of lockdown and a return to normality at some point this year. The vaccine programme is off to a strong start, with more than one in five adults in the UK having already received their first dose.
Despite many construction workers being unable to work from home, there doesn't appear to be any immediate plans for workers in the industry to be moved up the priority list.
In Scotland's vaccine deployment plan, frontline healthcare workers, non-clinical ancillary staff, laboratory and pathology staff are the only professions currently recognised as being a priority for vaccination, though teaching union EIS is lobbying the Scottish Government to have teachers prioritised.
Across the pond, America's Centers for Disease Control and Prevention has recommended that the country's construction workers be vaccinated in phase three of its vaccine rollout. This would put them directly behind those in phase two, which includes people of all ages with illnesses that put them 'moderately' at risk and staff who work in prisons, but in front of professions which aren't deemed to be essential to the running of the country.
Scottish Labour MSP, Alex Rowley, recently revealed he had been contacted by construction workers who are 'terrified' of contracting the virus and passing it on to family members, and also worried that they could lose their jobs if they refuse to work. 
An online petition calling for construction workers across the UK to be added to the priority list for the vaccine has attracted almost 700 signatures.
Bruce Dickson, regional director in Scotland for BAM Construction, told Project Scotland that Scotland has "followed the science throughout the crisis" and he trusts the judgment of government advisers – both scientists and in the NHS – to "identify priority groups who, once vaccinated, will allow us to start returning to more normal times".
He added, "Where construction workers fall into any of those groups they will receive the vaccine at the appropriate time. The current data in terms of case numbers and transmission would suggest that office workplaces have a far higher risk than our building sites and that shopping and social mixing are still driving transmission. 
"I would hope that if this data changed to suggest that construction workers were more at risk, this would be considered by those same advisors in setting their future vaccination priorities if it allowed a critical industry to keep operating as we go through this pandemic. As we have shown already, however, if we believe at any time there is a risk of virus transmission on any of our projects we will not hesitate to take action ourselves."
Archie Meikle, MD of Ashwood Scotland, has a similar view, saying he thinks of the vaccination programme as a "pyramid" with care home workers, frontline NHS staff and the most vulnerable at the very top, followed by the various age groups in descending order. He added that the majority of construction workers are "fit and healthy".
"Since we returned to work, we have introduced strict safety protocols across all Ashwood sites," he explained. "These measures range from distributing individual bottles of hand sanitisers to staggering coffee breaks in the canteens in order to reduce mixing. So long as these measured are followed and the wider construction community continues to adopt practices to combat the virus, construction workers should wait their turn for a vaccine."
A Scottish Government spokesperson told Project Scotland, "The Scottish Government follows the Joint Committee on Vaccination and Immunisation (JCVI) Guidance in the planning of vaccine delivery. This evidence based guidance advises that the single greatest risk of mortality from Covid-19 is increasing age, and that the risk increases exponentially with age. 
"The JCVI priority lists represents 99% of the preventable mortality from Covid-19 and throughout the delivery of the vaccination programme we will be guided by the clinical expertise of the JCVI, the MHRA, and our own senior clinical advisers."