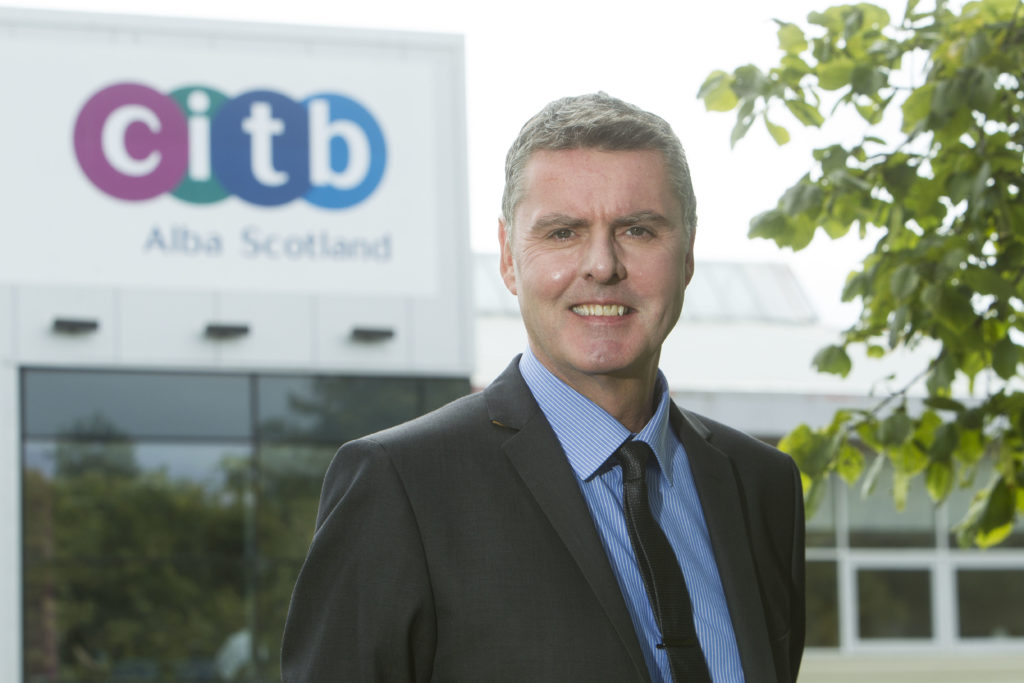 The CITB's partnerships director in Scotland is confident that, working with employers, the organisation can help the construction sector get apprentice numbers back up to pre-Covid levels as swiftly as possible.
Ian Hughes told Project Scotland that he believes the CITB's recently launched Strategic Plan 2021-25 will have a 'significant' impact on the ease in which construction businesses can bring in new talent to the industry.
With the CITB working with a reduced levy income, the training body will seek to prioritise a smaller number of distinct objectives to achieve its aims over the next four years to help modernise the sector and increase productivity. 
The organisation said it will provide direct support to employers and, in Scotland, will work with Skills Development Scotland and the Developing the Young Workforce network to help showcase the industry to potential recruits.
Ian Hughes said, "The Strategic Plan outlines how we will collaborate not just with industry but with government and further education. We will provide direct support to employers through grants and investments. We've got to make it easier to recruit workers into the industry and access training. 
"About 20,000 learners pre-Covid were studying some form of construction within the FE (further education) sector in Scotland, so we want to work with that sector and move a number of those young people into the jobs market. We want to boost the number of apprentices completing their programmes. There's a huge amount of investment by employers, CITB and government in terms of the apprenticeship model in Scotland. We want to protect that investment where possible and protect the learners' journey through the programme and into employment."
Hughes acknowledges that the Covid-19 crisis has resulted in a number of training-related issues, not least the fact that, historically, training has been one of the first things which businesses have tended to cut back on during times of financial challenges.
"We have experience based on the last recession; we have a lot of data, a lot of benchmarking," he explained. "We are seeing similar moves at the present time. Training is one of the first things cut back within a business which may be entering into a recession or a more competitive market. We recognise that. The challenge in terms of apprentices in particular is, first of all, ensuring those who are in their fourth year serve their time and get into the jobs market this year. There are about 800-1,000 people in construction this year who will serve their time and we're working hard with the colleges to ensure that happens. 
"Also, apprentices entering into industry will potentially be severely affected. The numbers who would normally be starting college around now are not happening at the scale we've seen in previous years. Getting them recruited and starting on the apprenticeship programme is a challenge and is something we're working closely with our partners on to make happen."
The CITB recently conducted an extensive survey of over 620 employers to gain insight into what their views and aspirations are regarding apprenticeships, and what support measures would be helpful in encouraging firms to hire apprentices.
The study found that coronavirus had resulted in 55% of Scottish employers who had planned to recruit an apprentice this year changing their plans. 
Ian Hughes added, "Apart from financial support, one of the interesting findings was that a pre-apprenticeship training programme, which doesn't exist at the present time, is something employers would welcome and recognise if it was part of leading into a Modern Apprenticeship later this year and next year. 
"To that end, we are taking on board what employers are saying to us and working with government and trade bodies to design a pre-apprenticeship programme which will hopefully train and provide competence and qualifications towards a Modern Apprenticeship when employers are feeling more confident next year in terms of the economy. We have around 800 apprentices lined up. Employers we speak to across Scotland have indicated that they, as we speak, are inclined to take on an apprentice over the coming weeks and months. That situation is fluid as you can imagine, especially in light of where we are with the pandemic. 
"We are positive that this year, and over the next two years, working with employers that we can get apprenticeship numbers up to and as close to the pre-Covid numbers as possible."
With some sectors expected to recover quicker than others from the Covid crisis, Hughes believes construction could benefit from an influx of talent from other industries.
"It looks as if there will be a substantial number of redundancies coming, not just in Scotland but across GB," he said. "That will obviously create a potential pipeline of additional talent. If trained properly and with the right method of attracting them into construction, there is an opportunity. Construction is one of those sectors, because of the level of skills that businesses have, that can bounce back quicker than most, with the right public and private sector intervention in terms of spending.
"Going back to the Strategic Plan, we will be investing and we have a target of 28,000 individuals across GB having workplace experience within construction. It could be people who are looking to come into construction, it could be those who are unemployed, it could be young people as well.
"We have a very strong relationship with Skills Development Scotland. We will ascertain what careers advisors need when they go into schools to make construction as attractive as other sectors. We can supply the materials, the stories and the briefings so that the message gets across. There's a whole raft of areas we can get involved in which will show the myriad of opportunities and occupations. Whichever pathways you take, there are numerous examples right across the sector of successful young people developing their careers, developing their business opportunities, and becoming self-employed."
Although still early days, Hughes revealed feedback from employers to the Strategic Plan has been positive, with businesses recognising the need to prioritise when income is reduced.
"Employers like the model of us having greater influence and collaboration with our public sector partners in particular in developing and designing solutions that the construction sector needs," he added. "If we collaborate properly and have the right people around the table, we should be on the right road to get through this particular crisis situation that we are in."