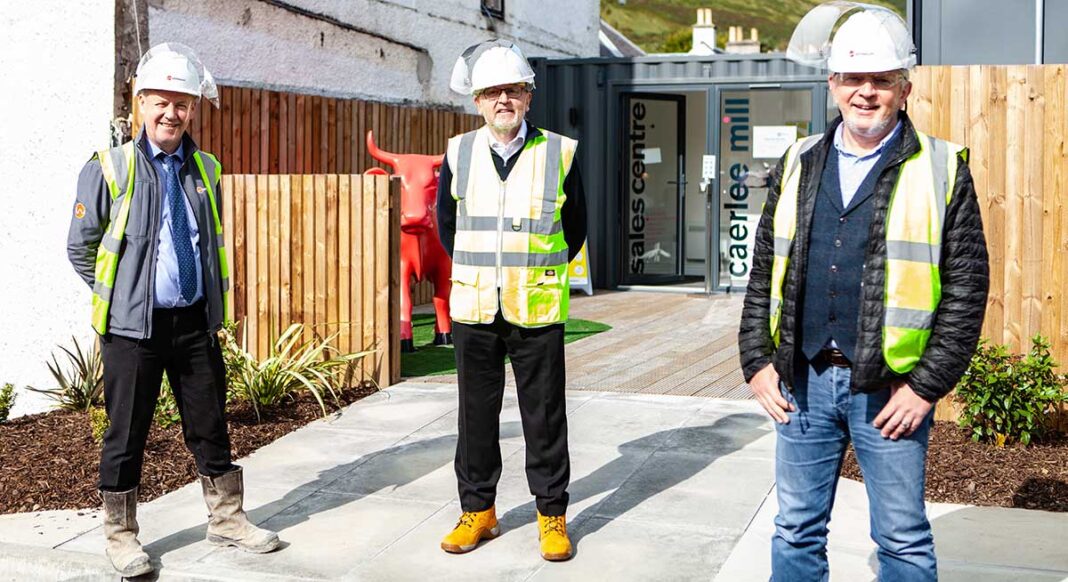 DAVID Mundell, the MP for Dumfries, Clydesdale and Tweeddale, has visited the Caerlee Mill development in Innerleithen to see the progress being made at the project, which is delivering a range of two, three and four-bedroom houses and cottage flats.
Mr Mundell met with Whiteburn's project director Roger Bainbridge and project manager Charlie Bain. The team has worked tirelessly in recent months to ensure the site had a 'robust' Covid-secure plan to return to work.
With production now back up and running, customers are moving in to their new homes.
Roger Bainbridge said, "The months of lockdown were challenging for all businesses, and Mr Mundell was incredibly supportive of trying to get the construction industry back working as soon as it was safe and possible to do so. His visit is an opportunity for him to see first-hand the progress that we are making in the transformation of the Mill site, as well as our Covid-secure measures that we have in place to ensure the safety of our customers, staff, suppliers and the local community."
75% of properties are now sold and occupied or fully reserved, with work to complete the remaining homes well underway. Caerlee Mill is using Scottish suppliers and tradespeople, including two directly employed members of the team from Innerleithen, while its primary materials supplier is based in Galashiels.
David Mundell said, "This has been an extraordinarily difficult year because of the challenges of Covid-19 and I was delighted when work resumed again at the site after the lengthy lockdown of the Scottish construction industry.
"This welcome development for Innerleithen will cater for households of various sizes living in beautifully designed surroundings and reflects well on Whiteburn, their architects and the craftspeople who are working here. My hope is that Caerlee Mill will benefit the wider Innerleithen economy, enhance an already strong sense of community and reflect the heritage of such a well-situated town."
Planning consent for Caerlee Mill was granted in August 2018 for 44 new build houses and flats. Whiteburn is continuing to explore viable solutions for the B-listed Brodie's Mill building, which dates back to 1778, and is in discussions with potential end users.