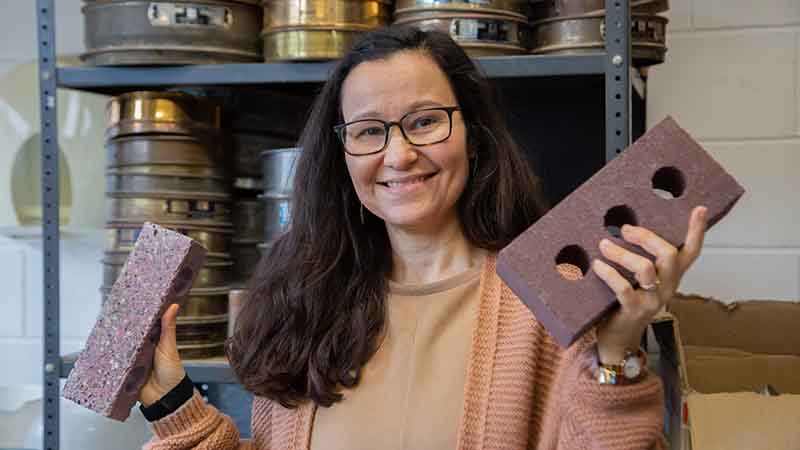 HERIOT-WATT University's development of a recycled brick made from construction and demolition waste has been shortlisted in the prestigious Times Higher Education Awards 2020.
The university said that their K-Briq produces just a tenth of the CO2 emissions of a traditional fired brick and uses less than a tenth of the energy during manufacture – with the recycled brick taking just 2-3 minutes to produce, while traditional white clay bricks take 10-40 hours to manufacture.
The K-Briq was created through a research project which began more than a decade ago. The initiative sought to explore sustainable, traditional construction methods with the intention of updating them for modern day application.
Professor Gabriela Medero from the university's school of energy, geoscience, infrastructure and society, who led the team behind the project, said, "The UK's construction industry produces over 100 million waste tonnes annually, over a third of the UK's total. Globally, the sector's CO2 emissions account for 39% of the world's total. Our team, in line with Heriot-Watt's outward-looking ethos, wanted to find a solution.
"Since its launch at the start of the year, the K-Briq has successfully driven 'sustainability in construction' into the media and public consciousness. We've secured our first build project from the prestigious Serpentine Pavilion in London and our research has been showcased on international platforms like CNN and Forbes. This award nomination completes an incredible year for the K-Briq. We remain incredibly grateful for the funding and support from Zero Waste Scotland, Scottish Enterprise, Construction Scotland Innovation Centre, the Royal Academy of Engineering and Innovate UK which has allowed us to take the K-Briq to this point."
The winners of the Times Higher Awards will be announced via a virtual ceremony on 26th November 2020.