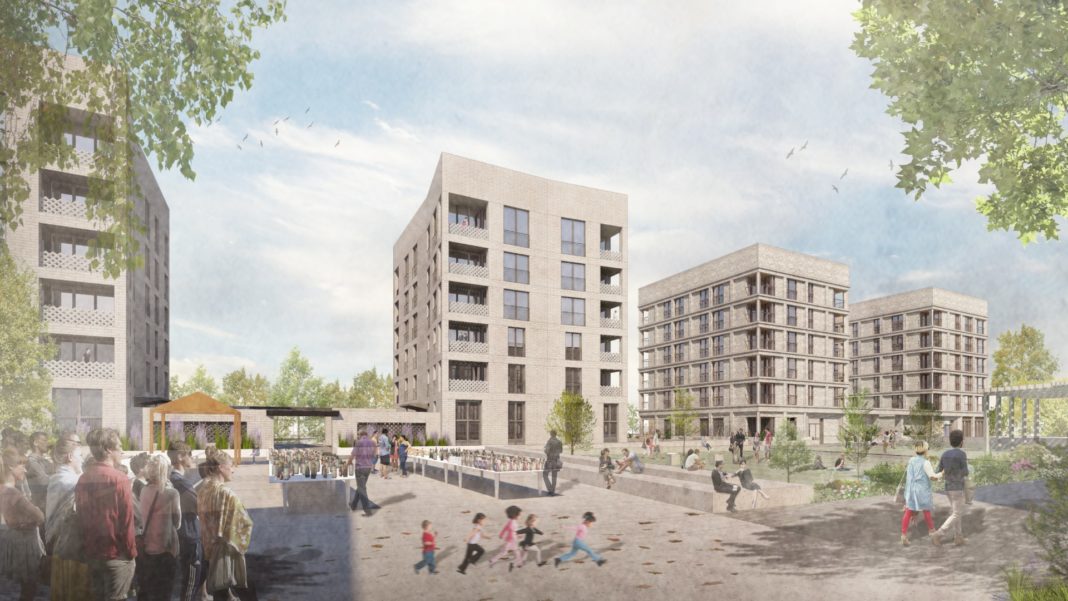 URBAN Union has submitted plans for the third phase of an award-winning development in Glasgow's Gorbals area.
The regeneration specialist – part of the Robertson Group – is hoping to get the green light from Glasgow City Council to deliver new homes and commercial space at Laurieston Living.
In the first phase at the development, 364 affordable and private homes were built in partnership with New Gorbals Housing Association. A further 190 homes are currently being developed as part of Phase 2, which is due to be completed by autumn 2021.
Urban Union plans to deliver four phases over a nine-year period. The site forms part of the wider Transforming Communities: Glasgow programme that aims to regenerate eight key neighbourhoods across the city.
Architect Stallan Brand's plans for Phase 3 consist of a new build residential development providing 349 dwellings, a mixed-use ground floor along the site's primary edge, and the final section of a civic park.
Neil McKay, MD of Urban Union said, "In this new phase of the Laurieston Living project we're proposing to diversify and build on the homes delivered by both phase one and two of the development, helping to further transform the area into a dynamic quarter of the city. These new plans have been designed to build upon the successful transformation and regeneration of Laurieston where hundreds of residents are already enjoying quality affordable homes at Laurieston Living."
Urban Union and Stallan Brand will host a Public Information Day on March 6 at New Gorbals Housing Association.
Paul Stallan, managing partner of Stallan Brand added, "The proposals for Phase 3 reflect the ambition of Urban Union, and will build on the successes of the earlier phases, further establishing Laurieston as a vibrant, urban living quarter. Stallan Brand has been involved in the regeneration of Laurieston for close to ten years, and our aspiration has remained throughout to promote development that enables diversity, good placemaking, and engages with the city fully.
"We have been collaborating with practice McGinlay Bell on three building types within the masterplan to develop a rich and nuanced design response, and have worked closely with Landscape Architects Oobe on the next phase of the Park. The studio has an ongoing commitment to creating high quality, crafted architecture, public realm and landscape that is embedded and connected to its local and wider context."