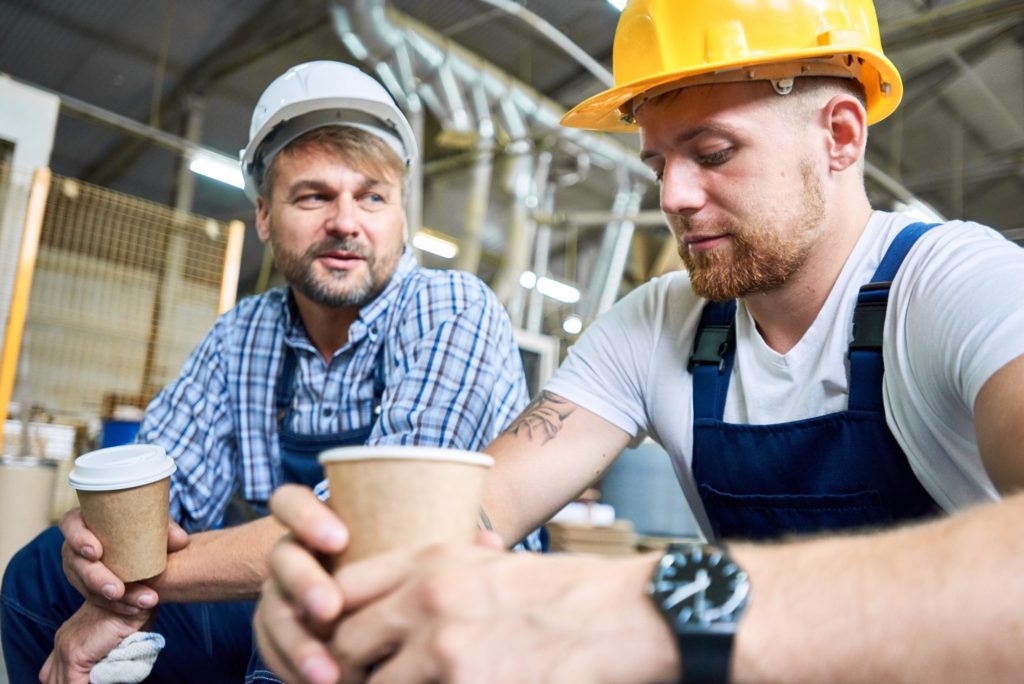 WITH research from the Office of National Statistics showing construction workers to be 1.6 times more likely to take their own life than the average UK worker, mental wellbeing is an ever-increasing priority in the industry. 
The National Access & Scaffolding Confederation (NASC) has sought to combat the alarming statistics by funding members to receive mental health training – a progression on their Heads for Height campaign, which works to break down stigmas surrounding mental health in the industry.
"NASC members have been incredibly supportive of the NASC Head for Heights campaign and keen to get involved wherever possible," said Simon Robinson, marketing manager at NASC. "When we launched the campaign members up and down the country were immediately very receptive to the main goal. They shared experiences of managing mental health issues in their workforces and wanted to make sure they would receive any mental health resources we created, including the SG:38 Mental Health policy guidance, which is free to download from the NASC website and a mental health toolbox talk.
"I think one of the reasons that the response has been so positive is because many owners and managers have such strong bonds with their operatives, are very close to them and feel responsible for their wellbeing."
Members are now able to apply for costs on mental health courses to be subsidised by the NASC, with the intention of a culture being created whereby mental health qualifications become commonplace within the scaffolding sector. Members can use the funding pot to receive training from a number of accredited mental health first aid training providers. 
One member organisation which has taken advantage of the NASC's drive for mental wellbeing in the workplace is Palmers. Speaking to Project Scotland, Dave Beaumont, QHSE advisor at Palmers, told how the NASC's initiatives helped supplement the work he is in the process of implementing at the Glasgow headquartered firm. 
Dave began a career in the construction industry in 2007. He recalls an industry taking general health and safety very seriously, but, like in most other industries, mental health wasn't receiving the attention it is today.
"Management of health and safety has become a big industry in itself; I've seen it evolve massively in the last eleven years or so that I've worked as a safety advisor, but in my experience mental health and wellbeing wasn't necessarily something talked about in the construction industry, although it is something we all have. Over the last couple of years the discussion around it has really gained momentum, in both the workplace and wider society, good mental health and wellbeing policy is initially about raising awareness, but can improve how we identify what is good or bad mental health and help lower inhibitions around discussing what we think and feel."
In 2017, Dave began drawing up a procedure for Palmers to build upon in regard to acknowledging mental health in workplace policy-making. It wasn't until the following year that the firm really pushed on with it, after the NASC's Head for Heights campaign acted as reassurance that mental health was an issue that needed acknowledged in the sector.
"To raise awareness of mental health as an issue and to try and provide help and assistance to our members where we could was our thoughts from the outset," Simon said. "The problem is that none of us are mental health experts and it would be difficult for us and all of our members to become mental health experts. So [with Head for Heights], we started out with just signposting, trying to help our members – what we can do for our members is quite limited, so we thought what could we do, what would be useful?"
Simon Robinson explained that NASC's drive for more awareness began with their former President, TRAD Group CEO, Des Moore. Des has spoken openly of the situation he went through aged 26, when he was tasked with patrolling sites and determining how much each worker deserved to have been paid for their contribution on that day – a job that, naturally, brought him a lot of flak. In his own words, he burnt out and a six-month recovery period ensued.
Des acknowledged that there was no workplace support for him at the time, and with his position as the NASC, strived to ensure none of its members faced a similar predicament. 
Dave added, "The NASC have been massively helpful. They've got guides available that they've developed, and we can reference – we've referenced it in our [mental wellbeing] policy. The policy reflects what they've put together, and you can contact them. I'm going to a course in March in Scotland to get mental health and wellbeing training, and that is going to be free. 
"There's lots and lots information and places, especially in Scotland, that are prepared to provide individuals help and assistance in improving their policies – the NASC seems to have a big drive on this, and being members of the NASC it's good that we can take advantage of that and improve our own [policies]."
The NASC estimate that the £30,000 funding pot will help train 250 members' employees. At Palmers, Dave will look to use the funding to continue the firm's approach to implementing an infrastructure that supports a positive mental wellbeing amongst staff. 
It is undoubted that the funds will be a plus side for the scaffolding sector and hopefully, as time passes, such training becomes commonplace across the industry.