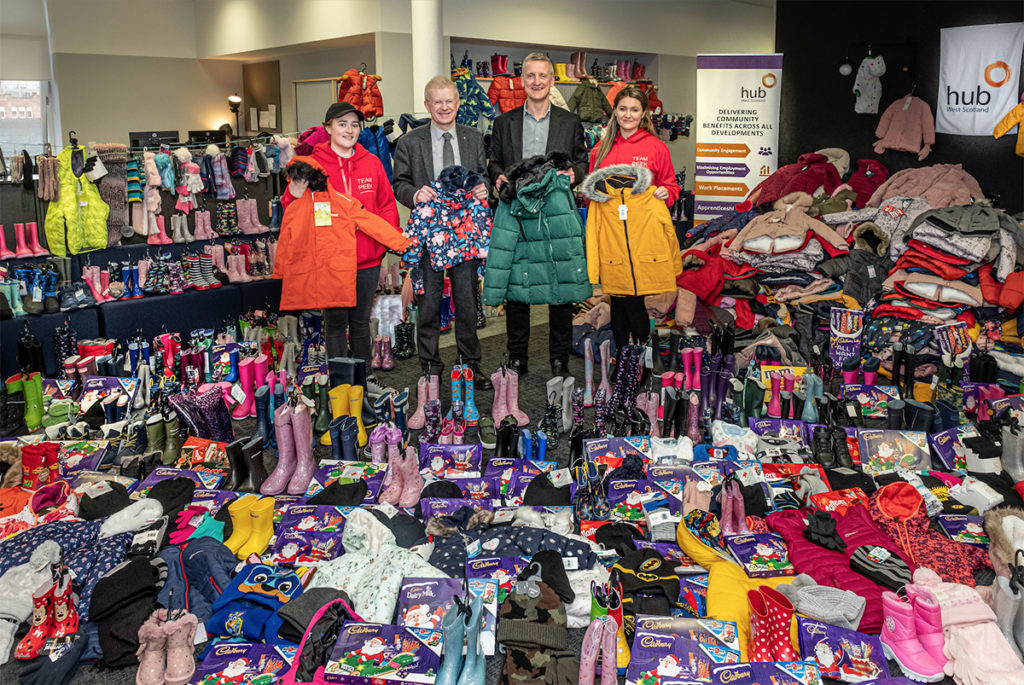 THREE times the amount of clothing compared to last year has been raised by hub West Scotland in their 2019 Winter Warmer Appeal.
In collaboration with PEEK (Possibilities for Each and Every Kid), the public sector development organisation put a call out to the construction industry to help ensure children in the west of Scotland were suitably clothed for the harsh winter weather.
Over one thousand items in total were donated. 730 winter jackets were received, 'hundreds' of wellington boots as well as 'dozens' of hats, scarves and selection boxes. hWS said the feat was achieved thanks to donations from their supply chain partners, local companies, schools, families and individuals.
Iain Marley, CEO of hWS commented, "We are committed to making a difference to communities and this is achieved through the projects that we deliver and emphasis that we place on driving the creation of local jobs, training and business opportunities.  On top of this it's great to lead initiatives such as our Winter Warmer Appeal.
"Over the past two years we have developed a close working relationship with PEEK and, encouraged by the success of last year's appeal, we were keen to widen this year's appeal in order to help more children in need of essential items of clothing for winter.
"The response has been overwhelming.  We are deeply grateful to our supply chain partners and the many other companies and members of the public from near and far – including Iceland! – for their amazing and generous contributions.  This has resulted in the incredible trebling of items donated.  This kindness will make a huge difference to children in Glasgow."
Michaela Collins, CEO of PEEK said, "We believe every child, regardless of their circumstances, has the right to basic necessities like warm winter jackets and wellington boots. Having the right clothing makes such a difference to the children we work with, it allows them to enjoy the magic of jumping in puddles and possibly play in the snow. A massive thank you to hub West Scotland and everyone who donated to the appeal. The response is incredible, and we are so pleased together we can help even more children this year."
hub West Scotland presented the donation to PEEK on Friday 6 December. John Mason, MSP for Glasgow Shettleston, was in attendance. He said, "The hub West Scotland Winter Warmer Appeal makes such a difference to our local community. It's desperately sad to think that children do not have basic warm winter clothes in Glasgow. The response to this appeal has been heart-warming and shows the huge generosity of companies and individuals. It is thanks to companies like hub West Scotland and their commitment to social investment that we are able to do what we can to help our communities."