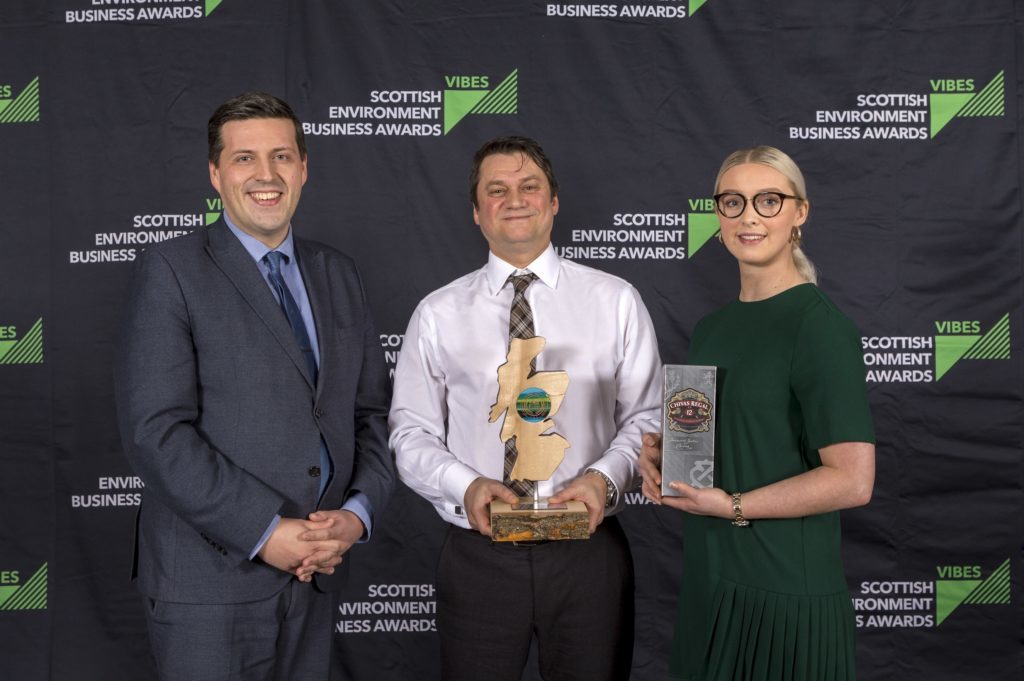 CMS Window Systems is celebrating after being named the winner of the Best of VIBES Award.
This award featured in the 2019 programme to celebrate the 20th year of the VIBES Awards, with ten previous winners including CMS shortlisted for a public vote.
The awards programme for Scottish businesses aims to encourage environmentally friendly solutions and sustainability.
CMS said the win reflects the progress the company is making on its path to being a net zero carbon business. The firm has eliminated landfill waste for the last two years, commissioned its first electric vans and implemented a biodiversity programme to protect and enhance the environment around its sites.
Gillian Bruce, VIBES chair said, "We would like to congratulate CMS on their outstanding achievement of winning the Best of VIBES award. CMS has previously won two VIBES awards and represented Scotland in the European Business Awards for the Environment. This latest award shows their exceptional ongoing commitment to the environment
"The scale of the environmental challenge facing humanity, from climate change to plastics in our oceans, is enormous, with a real urgency to act. The most successful businesses in the future will be those that are not just compliant, but which are also low carbon, low material use, low water use and low waste, and which see environmental excellence as an opportunity. This is at the core of SEPA's One Planet Prosperity regulatory strategy.
"It is very encouraging to see the diverse range of businesses, small and large, which are taking important steps to reduce their impact on the environment and which understand how environmental excellence can also benefit their bottom line. I would like to congratulate each of this year's winning businesses and organisations, and hope that others will be inspired to follow in their footsteps."
David Ritchie, CEO at CMS Window Systems said, "We're thrilled to win the Best of VIBES Award and would like to thank everyone who voted for us from a shortlist packed with businesses who are making a tremendous contribution to Scotland's sustainable development. Holistic sustainability – environmental, social and economic – lies at the heart of our business strategy, but we know we cannot stand still, and we are continuously looking at how we can do things better.
"Our latest move to align our business with the UN's Sustainable Development Goals will undoubtedly help shape our sustainable future and we hope other businesses will follow suit to maintain Scotland's status as a stand-out nation for its environmental achievements."