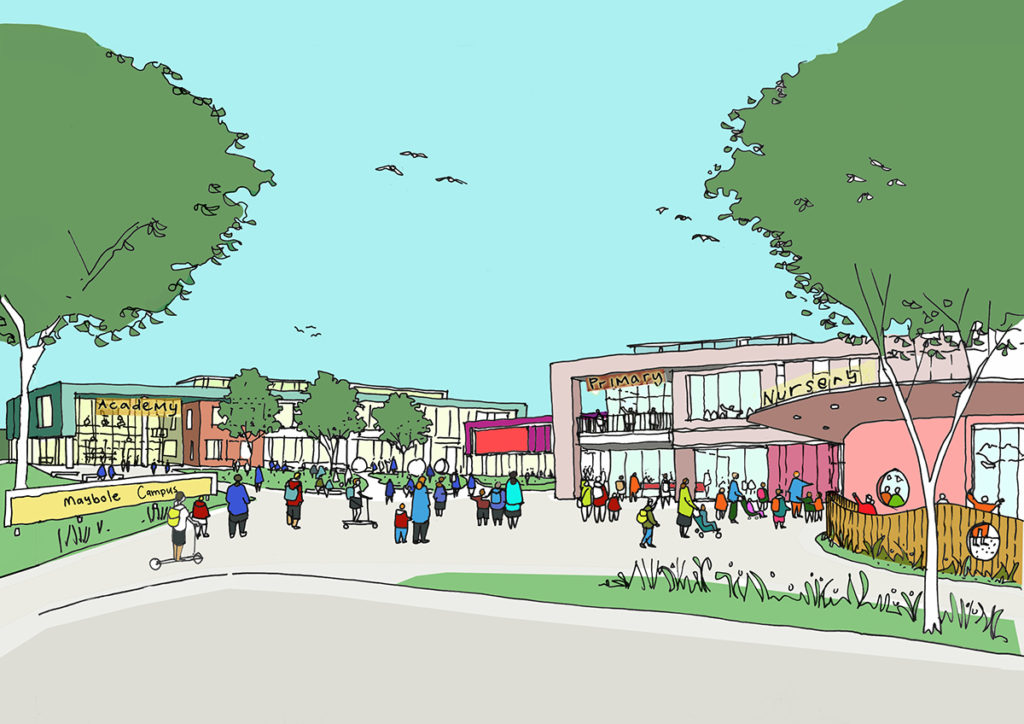 MORGAN Sindall Construction has been awarded two education contracts in Ayrshire worth a combined £64 million.
The contractor has been appointed by hub South West and South Ayrshire Council to build two new campuses for primary, secondary and early years teaching. The deals are for Prestwick Educational Campus and Maybole Community Campus.
Work on the Prestwick campus is expected to start in summer 2020 and complete by the end of 2022. The campus, which will be built on the site of the existing Glenburn Primary School, will have capacity for up to 823 children. It will accommodate the former Glenburn intake and also allow St Ninian's Primary to relocate there. The campus will also include an early years centre.
The second contract for Maybole Community Campus is also expected to get underway in summer 2020, with completion in spring 2023. The campus is to be built on the site of the existing Carrick Academy and will have capacity for up to 1,370 children and young people. As well as providing space for a new secondary school, the campus serving Maybole and Carrick will bring together Cairn, Gardenrose and St Cuthbert's primary schools together with early years provision. The Maybole campus will also feature a swimming pool which will be accessible to the public.
Both projects will be designed by architectural firm BDP.
Stuart Parker, Morgan Sindall Construction's MD in Scotland said, "We're very proud to be working with South Ayrshire Council and hub South West to deliver such a transformative investment in South Ayrshire's education provision. We have extensive expertise in designing and building primary, secondary and early years schools, and this brief fits that perfectly. But a large part of our successful bid was our commitment to a deliver a community training programme alongside the build process with TIGERS Ltd (Training Initiatives Generating Effective Results Scotland) – a training provider and employment broker we have a longstanding relationship with.  Through this programme we'll be training young, local people in construction and related skills to enable them to pursue a career in the industry.
"Delivering activity which provides measurable social value like this is of equal, if not greater importance, than the physical buildings we construct and we're incredibly pleased to be able to do so yet again through this project."
Councillor Peter Henderson, resources and performance portfolio holder for South Ayrshire Council added, "This is an exciting development and an important milestone for South Ayrshire Council, as we continue to transform learning for our children and young people. The campus-style approach will work really well in both Maybole and Prestwick, being at the same location means the schools will all have access to high quality internal and external facilities."
Michael McBrearty, chief executive of hub South West commented, "We are delighted to be partners in the delivery of these two new educational campuses at Prestwick and Maybole. Each will provide excellent facilities for the wider community and will transform education in their local areas.
"At hub South West we have already enjoyed the privilege of delivering such high-grade educational facilities in South Ayrshire, notably at Ayr Academy, Dailly Primary School and Marr College. Like their neighbours in North Ayrshire, the communities of Prestwick and Maybole can look forward to enjoying the enormous benefits of outstanding educational facilities as well as wonderful new opportunities in sport and outdoor learning, all of which will be absolutely first-class."