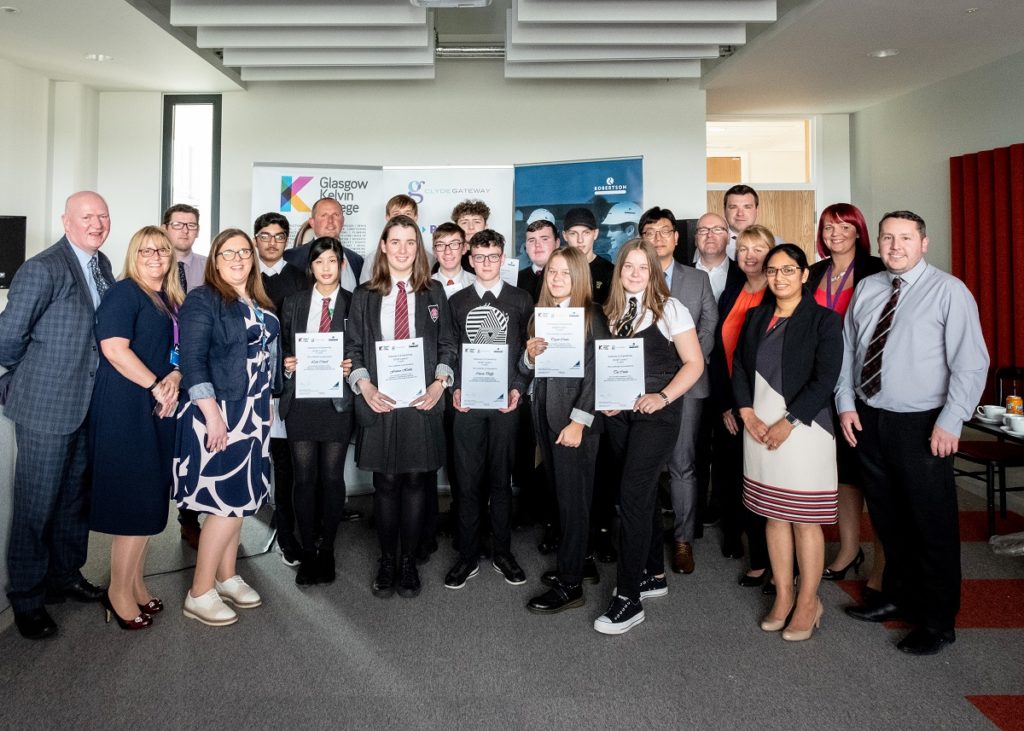 SCHOOL pupils from the Clyde Gateway area have potentially taken their first steps into a career in engineering after completing a ten-week programme.
Eleven youngsters from Trinity High School, St Mungo's Academy and Stonelaw High School have been participating in the annual 'Gateway to Engineering' initiative, run in collaboration between Robertson, Clyde Gateway, Glasgow Kelvin College and the University of the West of Scotland (UWS).
The pupils gained an SCQF Level 5 Gateway to Engineering qualification, supported by Glasgow Kelvin College. It comes as the Scottish Government published its 'New Housing and Future Construction Skills – Adapting and Modernising for Growth' report, which outlined the importance of STEM partnerships between education and industry in 'futureproofing' the industry.
The Scottish Government's business minister Jamie Hepburn made a speech at the graduation event. He said, "Well done to all the pupils who are graduating today – the first ever participants of this innovative course to complete the qualification. I wish them all the best on their next steps. The collaboration between the Robertson Group, Glasgow Kelvin College, the University of the West of Scotland and Clyde Gateway schools to involve young people and employers exemplifies our vision for a joined-up education and skills system to deliver our ambition to develop the young workforce and reduce youth unemployment by 40% by 2021."
The course involved academic and practical insight into engineering, including several visits to Hamilton Park Racecourse where Robertson Central West is building a new £10 million Hampton by Hilton hotel. The hotel is being built with a combination of traditional and modular techniques. The group also had the chance to use construction software such as 3D scanners and surveying instruments.
Gemma Gourlay, Robertson's director of social sustainability said, "This year's 'Gateway to Engineering' programme has a real focus on impact-led engagement, providing the pupils with tangible learning outcomes to support them on the next steps of their journey and assist them with making informed decisions on future careers. We had a brilliant mix of pupils taking part, and it's been fantastic to watch them gain an understanding of the different disciplines engineering offers over the ten weeks.
"This is the sixth time we've supported the programme, and the first that the group will get a tangible qualification at the end of it, boosting their CVs and their skillset. The pupils are now equipped with the right knowledge to make informed decisions about their future in engineering with some of the pupils already securing Foundation Apprenticeships and exploring university courses."
Natalie Phillips, Clyde Gateway's project manager for education, business & community growth added, "The Gateway to Engineering programme has long been one of our flagship programmes, helping young people with their education as well as improving their job prospects.  It is an initiative that we are incredibly proud of and a great example of how we aim always to ensure local residents, whatever their age, are the focal point of our regeneration efforts. The programme continues to evolve, grow and develop year upon year, enabling us to play an active and important role in a range of policy areas such as the Scottish Government's STEM Strategy."