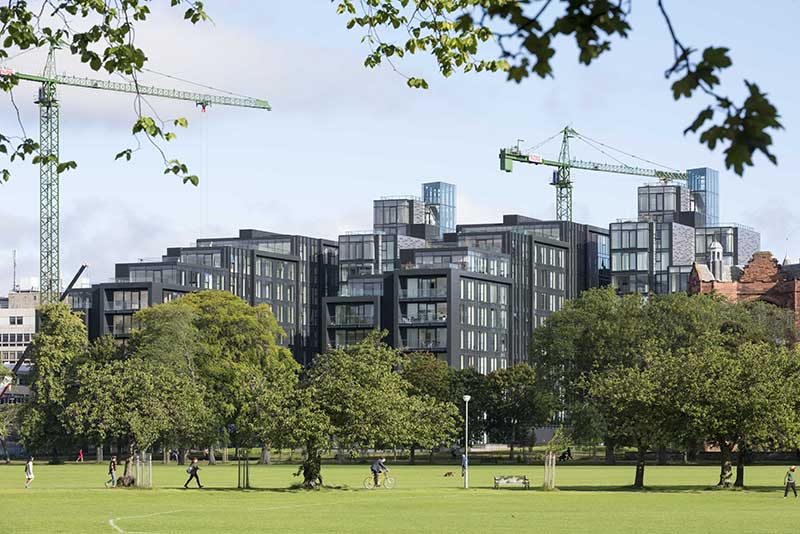 ONE of Scotland's largest regeneration projects, Quartermile is located on the former site of the Royal Infirmary of Edinburgh.
The mixed-use scheme provides over 1,000 apartments along with 370,000 sq ft of Grade A office accommodation, 65,000 sq ft of retail and leisure space and seven acres of open landscaping.
SIDERISE, a manufacturer of firestop and acoustic barrier insulation systems, was approached by façade specialists Charles Henshaw & Sons to find a solution that would meet the acoustic performance criteria requirements for Quartermile's Q20 – Q25 apartment buildings, all of which feature curtain walling.
The firm said the "principal challenge" was to achieve an on-site test value in excess of the 53dB DnT,w requirement for building regulations in Scotland. "The target was 56dB DnT,w," SIDERISE said. "For Henshaw, this meant that the façade system, a potential weak point for flanking sound transmission, needed to achieve between 61-66dB Dnf,w flanking via the façade, past the floor slab areas, to exceed building regulations and provide the architect, client and project noise consultant RMP with a solution that offered high acoustic performance and a quality build."
Design director Donald Fraser from Henshaw said, "We had very informative and lengthy discussions with Mike Carrick of SIDERISE, who helped us in achieving a far better detail at the slab edge, which not only met with the approval of RMP, it also proved to be the optimum solution."
SIDERISE recommended using its CW-FS 120 curtain wall firestop along with its AB10 acoustic matting solution and CVB/C10 cavity barrier solution. Used to improve floor-to-floor acoustic performance, the acoustic matt was held up with 40mm x 20mm x 1.6mm galvanised angles to stop it sinking. SIDERISE mullion inserts were also specified to further increase acoustic performance at the mullion detail.  
"This comprehensive floor detail from SIDERISE has been used at Quartermile to good effect, with all the test data showing it passed and indeed exceeded the target ratio," Donald Fraser added. "It's also extremely quick and easy to install."