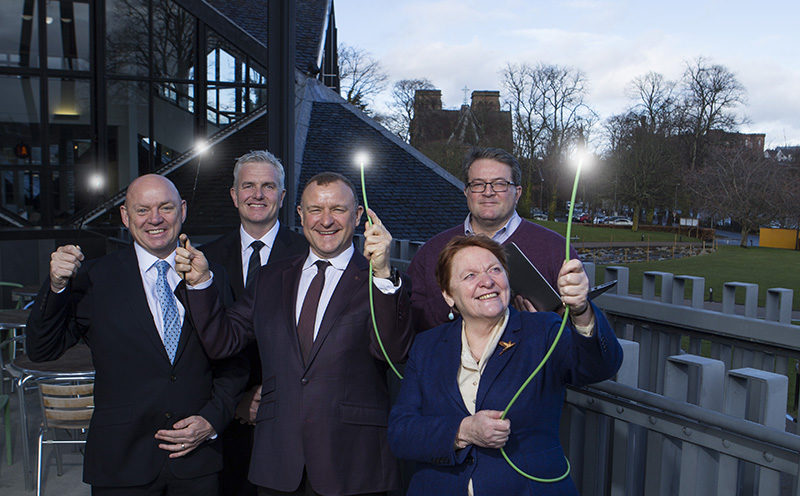 A number of communities in the Highlands are to undergo a "dramatic" transformation thanks to a project that will bring new full fibre infrastructure to the region.
Inverness, Fort William, Thurso and Wick are set to benefit from the new fibre network upgrade, said to be the fastest, most reliable digital connectivity available. In total, over 150 public services sites will be connected to the network, constructed by CityFibre.
Part of Capita's Scotland-wide SWAN programme, the project will bring "transformational and futureproof" gigabit-speed services to schools, libraries, offices, hospitals, health centres and university campuses.
The project has been made possible by a collaboration between the Highland Council, Highlands and Islands Enterprise, Scottish Natural Heritage, NHS Highland, the University of the Highlands and Islands (UHI) and the Department of Digital Culture Media and Sport (DCMS).
Working in partnership with the UK Government's Local Full Fibre Network Fund, these five Scottish public sector organisations have awarded a £9.5 million contract to Capita for the delivery of gigabit-capable services to 152 sites by March 2021. CityFibre has also committed a multi-million-pound private investment to construct the fibre network connecting the sites, which it will design, operate and own.
Speaking on the announcement, Drew Hendry MP (SNP, Inverness, Nairn, Badenoch and Strathspey) said, "The Gigabit City steering group has been working to realise this cutting-edge high-speed fibre connectivity over the past year and today's announcement will ensure we make significant progress towards that objective.
"As well as transforming internet connectivity in our public buildings, I would like to see our business community also benefit from this infrastructure in the future. The potential for Inverness and the wider Highlands really is enormous through improved productivity, inward investment and innovation. Instead of following, we will be at the forefront of the digital opportunities and that is certainly cause for celebration."
Eddie Cronie, managing director of SWAN at Capita said, "We are delighted to be working with all the regional partners to bring local access full fibre to Highland locations in SWAN, benefitting nurses, schoolchildren, and lecturers, among many, many others.
"Creating a fully connected Scotland has been a fundamental driver behind the SWAN project since we started it in 2014. By bringing full fibre to these 152 sites in some of the most rural areas of the country, we are getting closer to achieving that goal, as well as boosting the Highlands' economy through significant investment."
James McClafferty, head of regional development at CityFibre added, "This announcement marks yet another major CityFibre investment in Scotland's digital infrastructure. With existing full fibre projects in Aberdeen, Edinburgh, Glasgow, and Stirling, connecting schools, libraries, council offices and community hubs, our fibre infrastructure is already transforming the delivery of public services – fit for the future.
"Better connectivity not only drives efficiency and improves the digital experience of staff and community members, it will also help position these areas for economic growth, investment and innovation."