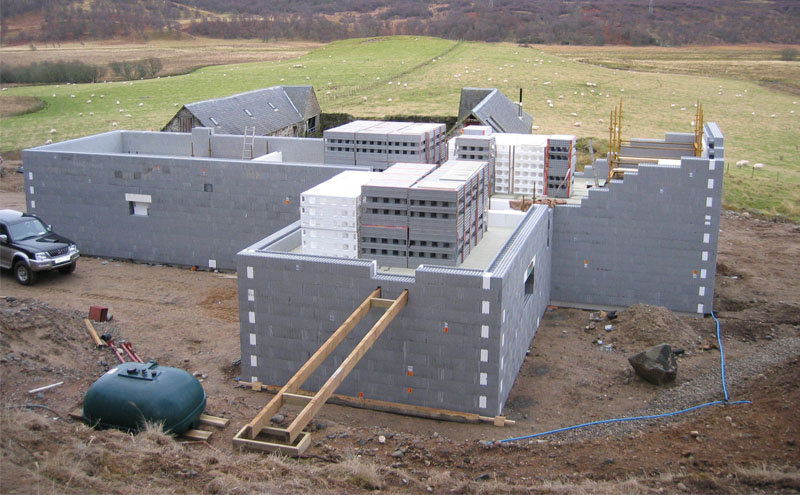 AN insulated concrete formwork solution (ICF) from Beco Products is currently seeing a rise in popularity as the construction industry strives towards more sustainable practices, according to the firm's managing director.
The Humberside-based firm was established in 1992 to develop a market for its BecoWallform ICF method of construction. The process involve the use of lightweight moulded blocks of expanded polystyrene, which are stacked and linked together before the hollow central core is filled with concrete. The blocks are left in place and the end result is a concrete wall with a built-in thermal envelope, which can then be clad.
The BecoWallform method been utilised to great effect on a number of Scottish projects over the years, including the construction of Castle Stuart Golf Links' clubhouse, but generally the UK has been slow to pick it up, says Beco Products MD, Robin Miller.
He told Project Scotland, "BecoWallform is based on the German Isorast system, which has now been around for the best part of 50 years. Specification of this method of building is now gathering momentum, particularly in Scotland where the standards of energy efficiency are much higher than those south of the border."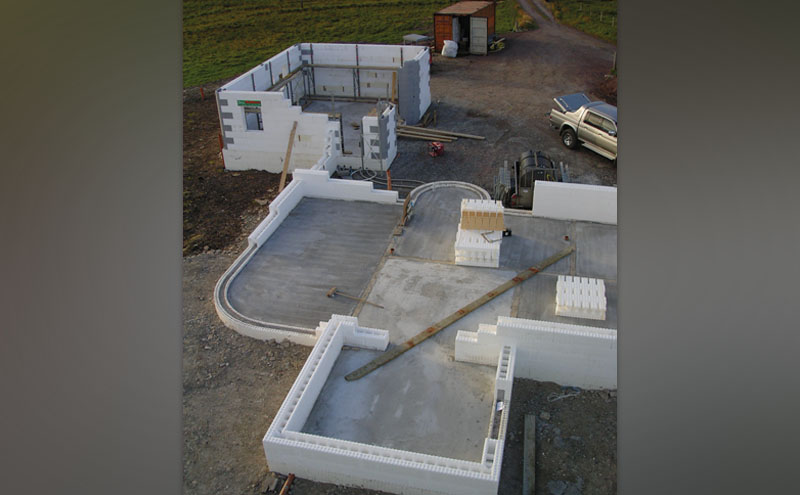 The reason the method isn't more widespread, Robin believes, is the UK construction industry's aversion to change, combined with the fact that using concrete for the main structure of smaller buildings is not something that's been done historically. However, the method does have a number of advantages.
He explained, "The key advantages are that it gives you a very strong structure, which is fully insulated and will achieve Passivhaus standards quite easily in the same building process. The materials we use are durable so there's nothing to rot or corrode or deteriorate over time. We are building very sustainable homes and other buildings."
Robin said the firm had supplied the BecoWallform system to a number of "beautiful individual projects" north of the border and it is currently being used on several projects in the Western Isles.
He continued, "What we're finding is due to the Scottish weather, with this kind of construction, it means we can build in bad weather when other forms of building can't progress.
"The method of construction is quick and it's practical, and it can adapt to almost any design. What we provide is a strong structure, which is fully insulated, and you can choose whatever claddings you want. Render and harling are obviously the most common is Scotland but you can apply bricks or tiles or stone cladding or timber cladding, so it can gain whatever appearance the client wants."
Robin believes a push towards sustainability, coupled with the skills shortage facing the industry, will see the ICF method grow in popularity going forward. He explained, "This form of building is quick to do and it's not a skill or a craft operation; it's about practical ability, so it's relatively easy to train operatives with experience in the system and build quickly.
"As it becomes more popular it is increasingly cost competitive and ultimately it will gain a much stronger position in the market."
While the Wallform system is generally supplied to contractors or self-builders, Beco does provide training for those new to the method. The company has also been involved with the Construction Industry Training Board (CITB) in developing an NVQ for this type of construction, Robin added.
"That's another boost for the construction industry because it's a shorter course for training operatives into this type of construction, so it means we can get people to work that bit quicker and that bit more competently."