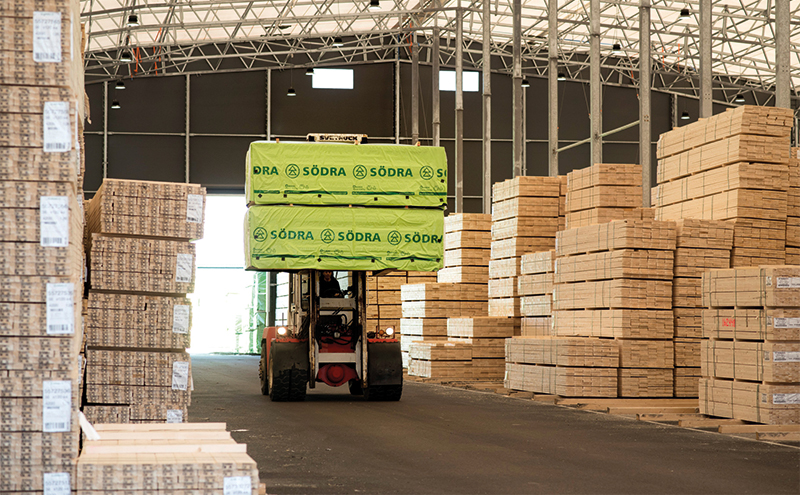 Jeremy English, Great Britain and Ireland sales director at Södra Wood, Sweden's largest cooperative of forest owners, explores why, more than ever, it is so important to source and use the very best, sustainable timber
WITH Brexit just around the corner and timber becoming an increasingly popular and necessary building material, it is crucial to be sure of the provenance and quality of the timber you are using. No more so than in Scotland, where timber is vital to the Scottish housebuilding industry.
Timber frame housebuilding in Scotland already makes up around 83% of new build homes, compared with just 23% in England. It's therefore no exaggeration to say that Scotland is leading the way in regard to timber frame housebuilding knowledge and expertise. And Scottish timber frame manufacturers are spreading the word, plying their trade south of the border and beginning to build strong alliances with major housing manufacturers. The relationships that Stewart Milne Timber Systems has built with Barratt Homes and Taylor Wimpey Homes, for example, speaks directly to this.
Halting deforestation, protecting nature and fighting climate change
Timber's sustainability credentials are well known, meaning its popularity and demand are only likely to increase. A report from the Royal Academy of Engineering even suggests that a new generation of timber buildings would help the UK meet Paris Agreement sustainability targets. With increasing popularity, however, comes the threat of illegal logging, deforestation, and a potential influx of unsustainable, poor quality timber.
The EU Timber Regulation, now just over five-years-old, has been one of the key defences against this. Encouragingly, it has largely helped to prevent illegal timber from entering the EU market and helped international efforts to halt deforestation, protect nature and fight climate change.
As recently as 2016, however, a Swedish Court ruled that Almtra Nordic was breaching the EUTR for importing tropical wood from Myanmar without properly assessing the risk that it had been logged illegally.
The case set an important precedent that companies, under EU Regulation, are required to fully trace their supply chains, right back to where the timber has been harvested. It's an important reminder that quite rightly, chain of custody is being closely monitored.
Thankfully, it's likely that the UK will remain committed to EU FLEGT following Brexit, although it will be known by its UK name: Timber and Timber Products Regulation.
Guarantee supply assurance in uncertain times
As well as sustainability and quality, you need to guarantee supply assurance in uncertain times. You need to be sure, following the UK's planned departure from the EU, that you can source the right, sustainable wood in the right quantities at the right time.
You can do this by being a responsible buyer. Be aware of where your wood is coming from and make note of the forestry company's sustainability policy. Are they reputable? Do they have ownership of their supply chain, as per EU Timber Regulation, from seed to sapling, to harvesting and beyond? Be mindful that forest owners with complete end-to-end control of their supply chain and a strong Great Britain and Ireland distribution network are more likely to be insulated by fluctuations in timber supply, and therefore able to offer greater supply assurance. Here at Södra, we have distribution terminals and treatment centres in eastern England, southern England, Ireland and Scotland, at the Port of Dundee.
Sustainability comes hand-in-hand with quality
Sustainability comes hand-in-hand with quality, so be sure to ask your merchant for the appropriate chain of custody certification. This will have been given to your merchant by the importers. Crucially, if it is PEFC and FSC-certified then you can be confident of its sustainability credentials.
Most timber will carry certification and grade marks. If there are no grade marks, the timber must not be used for structural purposes. If you have any doubts, note the grade stamp details and contact the UKTGC.
You should also check that the timber you are purchasing has an average moisture content of 20% or less, with no single piece exceeding 24%. The benefits of using timber with the correct moisture content are numerous: greater strength, easier handling and transportation, better machining, and less shrinking and distortion, to name just a few.
For these reasons, it's important to be sure that the merchants you are purchasing from are reputable and carry chain of custody.
Why is this important?
If your timber has been slow-grown to full maturity then not only has it fully benefited the environment, but it will be straighter and stronger, less prone to twisting or bowing, and have fewer knots and imperfections.
Quality timber provides you with the reassurance that what you're building is high-quality and going to last. If you don't invest properly in the foundations of a project, then what's on top will not perform properly.
Moreover, some top tile manufacturers will only warrant their product if it has been fixed on British Standard batten, for example. They recognise the importance of using top quality timber – it's what underpins their warranty. One of the crucial reasons why the British Standard was introduced was to provide peace of mind and a benchmark for quality that roofers, housing developers, and tile manufacturers, for instance, can rely on.
Being a responsible purchaser of timber can not only help you guarantee a first-class job but enhance your reputation and restore consumer confidence. Higher quality timber also means less cast-offs and wastage – all of which bolsters your bottom line.
Vitally, if you're working on a project that is reliant on ethical funding, you will need to provide proof of sustainability. It's therefore the roofing manufacturer's responsibility to produce documentation that demonstrates the use of fully compliant, PEFC and FSC-certified timber. Failure to do so risks the funder saying, "that's not the standard we approved", and requesting that the non-compliant timber is removed.
We're entering a really exciting time for timber and I truly believe in its ability, amongst other things, to help fix the UK's housing crisis and meet its sustainability targets. But we can only achieve this if the right, high quality, sustainable timber is used. Take care when sourcing your timber. It won't let you down if you do.