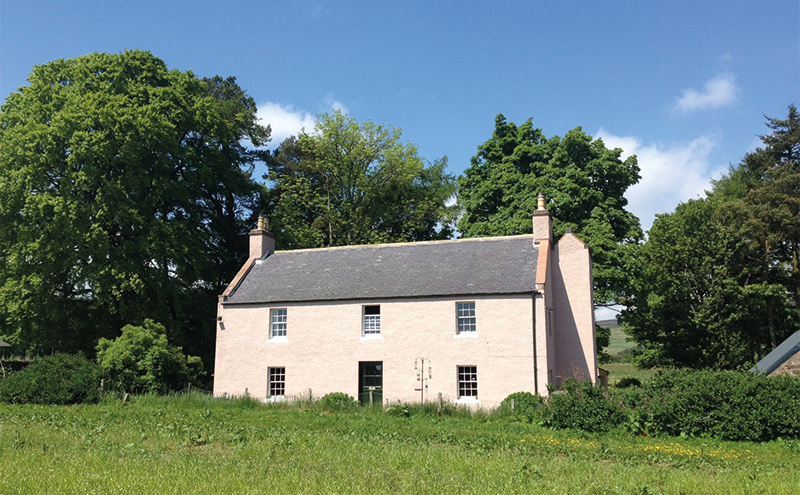 THE insulation of a 250-year-old farmhouse in rural Aberdeenshire, which received recognition at last year's Scottish Energy Efficiency Awards, has demonstrated the potential to provide modern heat loss prevention solutions to architecturally significant buildings.
Bogendollo House, a C-Listed building at Fettercairn near Aberdeen, was the subject of a trial to assess the viability of spray foam insulation.
The initial trial was completed seven years ago and was followed by two years of monitoring of the hydrothermal performance.
The building received further improvement in 2017 when the entire structure was insulated and airtightness addressed at walls and around openings.
This additional improvement was then assessed through energy consumption monitoring and is said to have revealed "striking" results.
The initiative was a collaboration between academics at Robert Gordon University's Scott Sutherland School of Architecture and Built Environment in Aberdeen, Heriot-Watt University in Edinburgh and spray foam insulation system suppliers Icynene, in association with Kishorn Ltd.
Dr Amar Bennadji, principal investigator and lecturer in architecture at Robert Gordon University said, "Scotland has a rich heritage of architecturally significant properties, many of them built when little thought was given to heat retention.
"We wanted to show that heat-loss mitigation measures can be introduced to these buildings without compromising delicate internal finishes which often influence their elevation to listed status as much as their external structure."
The process devised by Dr Bennadji involved injecting the foam insulation into the narrow void between the external walls and the lath-and-plaster lining.
The methodology was tested at the workshops of Kishorn Insulation then refined on site by a team of 16 collaborators from four countries, including the CEO of Icynene who travelled from his base in Canada.
The foam system used was Icynene FoamLite, an "open cell" system which is said to expand gently when applied, sealing all gaps, service holes and hard to reach spaces.
Open cell foams are extremely vapour open and will allow moisture vapour to pass freely through, allowing the building to breathe naturally.
Open cell foam will also not soak up or "wick" water. According to Icynene, the material has a Global Warming Potential [GWP] of 1 and an Ozone Depletion Potential [ODP] of 0 [Zero]. 
Results showed that energy consumption for heating had fallen 56%, suggesting Bogendollo House would require 5% less energy input than a comparable structure built to current building regulations standards. 
Dr Bennadji added, "There is obviously a delicate balance between reducing energy consumption and preserving our built heritage.
"This project has clearly established that energy consumption can be reduced with no impact on the aesthetics of the building. We believe this opens the door for both historic buildings and older domestic properties to finally retain warmth, reduce their energy bills and contribute towards efforts to curb global warming."
The project was honoured with a Commendation in the 2018 Scottish Energy Efficiency Awards in the Small-Scale Project of the Year Category.