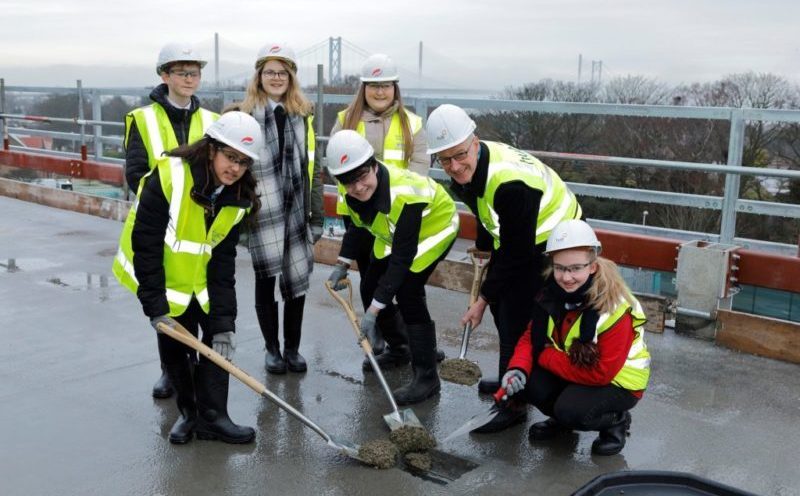 A topping out ceremony has been held at the new £40 million Queensferry High School. The school, which is being built by Morrison Construction in partnership with hub South East, is due to be handed over in spring next year.
John Swinney, the Scottish Government's Deputy First Minister and Cabinet Secretary for Education and Skills, joined pupils to mark the milestone moment and poured the final piece of concrete on the top floor.
Facilities at the school will include a multi-purpose assembly space with retractable seating, a 3G football pitch and a six-lane swimming pool. The new school will be built on the current school's playing fields and, following completion, the old school will be demolished, with the area landscaped and a new pitch created on the site.
Deputy First Minister John Swinney said, "The City of Edinburgh Council's continued investment in their school estate, in partnership with the Scottish Government and Scottish Futures Trust, will provide generations to come of learners, teachers and parents with modern, fit-for-purpose, low-carbon facilities that they can be proud of. I am pleased that the Scottish Government was able to provide over £21 million towards the construction of Queensferry Community High School and I look forward to visiting the school once it is complete."
Roddy Clark, hub South East's projects director added, "We're delighted to have welcomed the Deputy First Minister and guests along to mark such an important milestone in the new Queensferry High School's construction. It really is taking shape and is set to be a fantastic, modern learning space for pupils and staff. hub South East is keen to bring innovative ideas and added value to the projects we deliver and today we were particularly proud to showcase the new school's low carbon design. Ultimately this will not only satisfy increasing environmental targets but it should have a beneficial effect on the learning environment and educational attainment for its young people."
David Wilson, operations director at Morrison Construction commented, "Good progress has been made on site since our guests last visited. The upper floor concrete works are now complete with the external enveloping works now underway. The site team is due to begin the internal fit for the education facility in March. Morrison Construction's community benefits programme has so far enabled more than 600 pupils and 60 college students visit site to learn about our industry and the opportunities it offers. Local pupils, college students and young people in pre-employment programmes have also completed 60 days of work placement on site."