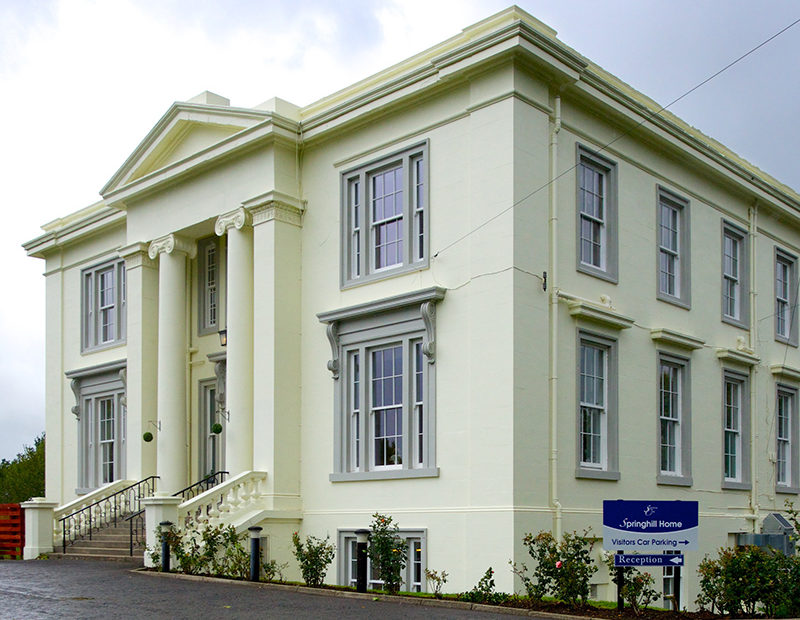 SILVERLINE Care has celebrated the official reopening of its Springhill Care Home in Kilmarnock as part of a £200,000 refurbishment programme.
The facility is a Georgian B-listed building, which was originally built as a family home in 1830 by Archibald Finnie, a major employer in Kilmarnock.
Silverline took over the management of the care home in July 2017 and instigated a refurbishment, carried out by contractors akp. The works included mechanical and electrical upgrades, structural repairs, re-roofing works, stone repairs and alterations, new sash windows throughout and a full redecoration. 
Councillor Jim Todd, Provost of East Ayrshire, performed a ribbon-cutting ceremony. He said, "What a wonderful way to celebrate a person's life by keeping that person active through constant care. Silverline Care have invested in a much-loved Springhill House to provide constructive lifestyle for all residents at the home and all of the staff provide a first-class care package."
Tim Bolot, Silverline Care's chief executive added, "Silverline Care aims to become the leading care provider in each of the local communities we serve. So we are very proud to have been able to restore Springhill Care Home, a building which we know means a great deal to the people of Kilmarnock.
"We had a wonderful afternoon to mark the official unveiling of the home and it was great to welcome the Provost and allow him to see the refurbishment works both internally and externally. I know the residents enjoyed meeting the Provost and it was a pleasure to show him around this stunning building.
"This is just the first stage in our refurbishment journey at Springhill as we will be carrying out substantial work over the next two years as part of a £200,000 overall investment. We hope that the addition of the cook school, residents' salon and beautiful gardens will not only enhance the enjoyments of our residents but also provide greater peace of mind for their relatives."
Ian McEwan, joint managing director at akp commented, "Working on a listed building, such as Springhill, always provides an extra element of project satisfaction and we have thoroughly enjoyed delivering this refurbishment. Being involved in giving a building a new lease of life is always rewarding, but there was an additional sense of satisfaction with this job as we became invested in the lives of the residents during the works, talking with them on a daily basis, so when handing over the extensive refurbishment of the building, we knew how much it would benefit those residents moving forward."