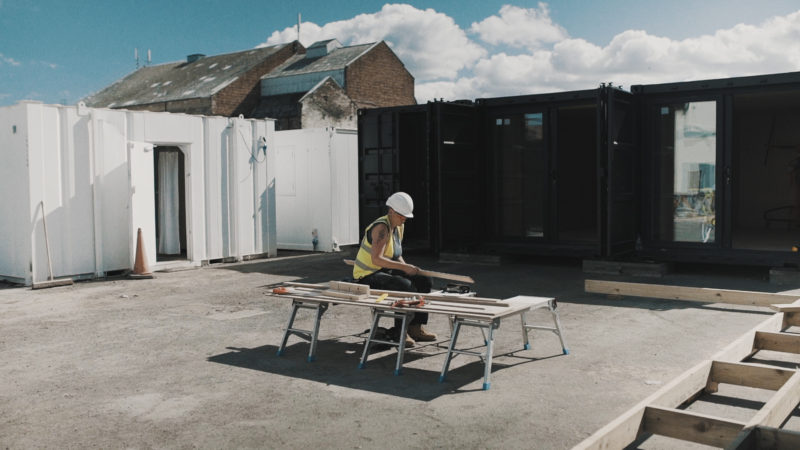 AN Edinburgh-based construction social enterprise has been giving local trainees paid work experience on a project to convert shipping containers into artist studios in Leith.
Rebuild supports people with barriers to work including ex-offenders, formerly homeless, sufferers of PTSD and other mental health difficulties. They help them gain skills and self-confidence through on-site construction training.
Five trainees have been involved in a project to bring a new lease of life to the old tram depot site on Leith Walk. Delivered for the council by hub South East, with Morrison Construction the main contractor, the project will see the building brought back into use and provide space for artists and other creative entrepreneurs.
Paul Hunter, founder of Rebuild said, "The positive financial implications to the local economy made by supporting people with barriers to work are huge. For example, it is conservatively estimated that the savings made by keeping one individual with a history of offending, out of the criminal justice system are around £50,000 per year, factoring in the cost to keep a person in prison along with social work, legal aid and numerous other associated expenses. We work with our trainees with the view to helping them change their path and learn new skills that will help them towards a brighter more prosperous future. An important part of this is allowing them to earn money whilst they learn, so we support them by paying the living wage."
Marcus Weurman, development manager with hub South East added, "We engaged the team for the shipping container fit out through Rebuild as part of a wider regeneration project in Leith and we've been extremely impressed with the dedication and professionalism shown.
"We're incredibly proud to be supporting this social enterprise in its first live project.
"Knowing that the trainees have grown in skills, experience and confidence during their time on site is fantastic. We're in no doubt that these are just the first of many people Rebuild will go on to help and train in the future, providing invaluable opportunities and making a real difference."