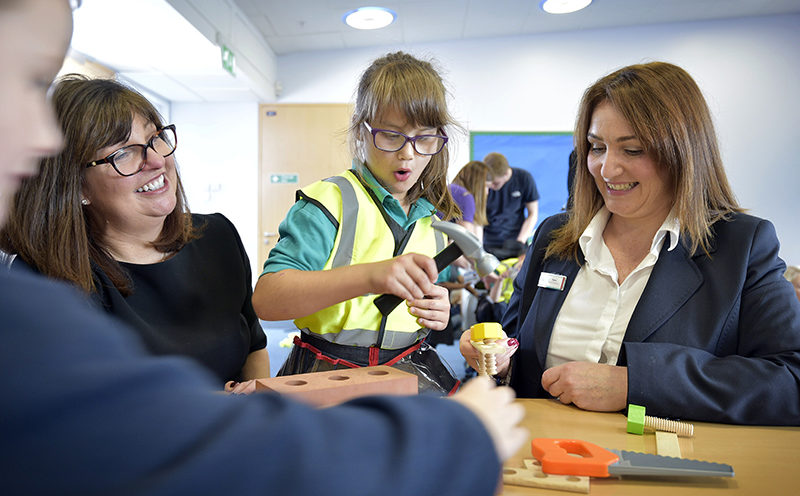 THE team delivering the new Newton Mearns community of Maidenhill has donated construction play equipment worth hundreds of pounds to a local school.
Representatives of CALA Homes (West) and Taylor Wimpey West Scotland visited children at Isobel Mair School to hand over the educational toys, which included construction worker costumes, toolboxes and a workbench and life-size toy bricks.
Angela O'Hara of CALA Homes (West) said, "It's been absolutely wonderful to personally hand over the play equipment to the children. Seeing their faces light up when they saw the toys was just priceless. The team at Maidenhill is going to be part of the local community for some time to come, so to be able to offer support to local schools and groups is fantastic."
Elaine Reilly from Taylor Wimpey West Scotland added, "We wanted to bring something imaginative that also had some educational value – and that could be enjoyed by as many of the pupils as possible. We're hoping the children will get plenty of fun from the donation."
Sarah Clark, headteacher at Isobel Mair School commented, "We were absolutely delighted to receive the offer of a donation of brand new play equipment from the team at Maidenhill. The children were thrilled to see brand new toys when they came into our 'Adventure Room', and I'm sure they'll have a wonderful time letting their imaginations run wild on their own mini 'building sites'. We can't thank the team enough for their generosity."
185 homes will be built during the first phase of construction at Maidenhill.