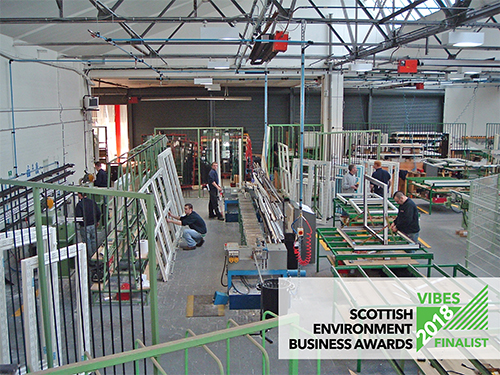 FENESTRATION specialist Sidey's green credentials have been recognised after the firm was named as a finalist in The VIBES – Scottish Environment Business Awards.
Sidey is the only finalist in fenestration for the Environmental Management SME category. All the others operate in the food and drink sector.
Robert Fitzpatrick, group accreditations manager-HSQE at Sidey said, "Being a finalist in these awards is testament to the focus we have put on the environment over the last ten years. Our results are impressive. Today we have zero landfill from our manufacturing facilities and between 90 and 100% recyclable recoverable waste, which is a massive improvement from the 8-9% ten years ago.
"We first achieved 100% recycling from manufacturing waste in 2015 and have maintained it every year since. Now we operate lean manufacturing processes where waste is seen as bad and non-productive."
Sidey was one of the first window manufacturers in the UK to get ISO14001:2015 and has ISO 9001:2015 and OHSAS 18001:2007. The business is also one of the only companies in the UK with the latest BS 8213-4:2016 standard for Survey and Installation.
Finalists for The VIBES have been selected across nine categories. Bob Downes, chair of SEPA and head of The VIBES judging panel said, "The VIBES…are a great chance to recognise business leadership in sustainable environmental investment. This is at the core of SEPA's One Planet Prosperity regulatory strategy. New approaches for delivering environmental improvements provide businesses with opportunities to enhance their sustainability and economic performance.
"The Awards celebrate businesses which are already stepping up to this challenge and are leading by example and are an excellent opportunity to recognise and reward these companies for going beyond "business as usual" and driving sustainable growth through innovation. It is very encouraging to see so many of Scotland's businesses leading the way and making a difference which will not only support the environment but also protect their bottom line. I would like to congratulate each of this year's finalists and wish them luck for November's ceremony."