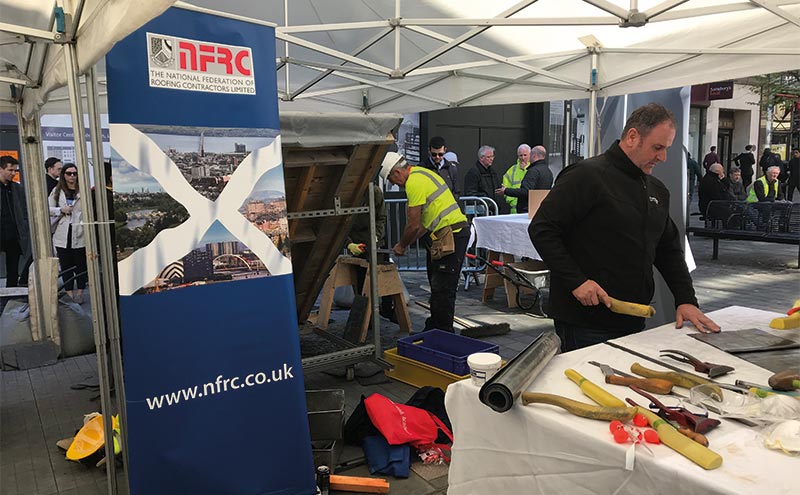 THE clatter and bang of hammer and chisel rang out all along Glasgow's famous Sauchiehall Street recently as the Scottish Traditional Building Forum (STBF) set up shop on the thoroughfare for two days of traditional building skills demos.
City centre office workers looked on inquisitively as a number of workshops took place to promote trades including roof slating, stonemasonry, joinery and lead work to local schoolchildren, with groups from nine schools across the city attending over the two days.
The event was organised by the STBF in collaboration with the National Federation of Roofing Contractors (NFRC); West College Scotland; Glasgow City College; the Willow Tea Rooms Trust; Glasgow Heritage Trust; Stone Federation; Built Environment Forum Scotland; and the Construction Industry Training Board (CITB) Scotland.
Thom Simmons, chair of the Traditional Building Forum in Glasgow and member of the client team for the Glasgow School of Art (GSoA) restoration, told Project Scotland, "Through the (GSoA) restoration project we're trying to pull out as many training opportunities as possible and as part of that, and also in my role as chair of the Traditional Building Forum in Glasgow, we've organised an event here where we can promote apprenticeship opportunities, particularly in traditional building skills, but generally this is an opener to construction for young people.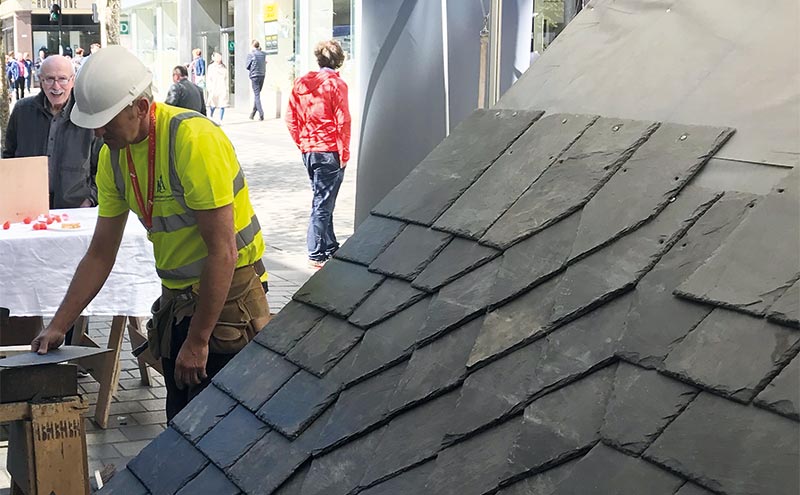 "There's a huge skills deficient at the moment, and this is one way of raising the profile of construction in general, but also in these really specific heritage building skills. Stonemasonry is a really good example of a trade that a lot of youngsters will never experience unless it's put right in front of them and there's a really good living to be made there."
Thom added, "In terms of the workshop spaces we're completely booked out and we've had a huge amount of interest from the general public as well. It's been really successful."
Colin McCorquodale, co-owner of roofing and building contractor Archd. McCorquodale & Son, NFRC regional committee member and former president of the Scottish Master Slaters and Roof Tilers Association, was in attendance to focus on traditional slating. Colin's firm, based in the south side of Glasgow, has been in business for over 100 years and its core business is still traditional roofing and building.
He said, "The aim of these kind of exhibitions is to try and get the youngsters interested in choosing and actively choosing construction, particularly roofing, as a career.
"We feel in the past it's very much been a career choice they've fallen into. We're trying now to change that, to make it a choice that they actively go and pursue a career in roofing."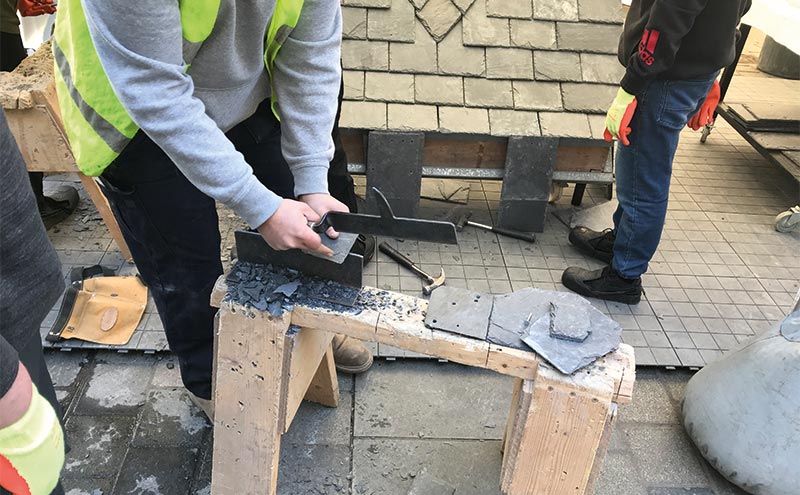 Colin continued, "It can be such a rewarding career for people who put in the skill and the effort and it's a traditional building skill like all of the ones we're demonstrating today, which are really invaluable. You look around any city – Glasgow, Edinburgh – and you see the traditional Victorian buildings. They'll always need repairing, reroofing, maintaining. These buildings have been going for 100-plus years; we need to keep them going for the next 100-plus years, and without traditional craftsmen to do these skills we simply wouldn't be able to do that."
As the oft-lamented skills gap continues to dog the industry, hitting the streets and putting school kids in front of tools will let them see that the opportunities are there for the taking, Colin reckons. He said that the children in attendance were typically around S3 level, at an age where they're starting to consider their career prospects, and this event gave them a "wide spectrum of skills" to focus in on.
"Hopefully this gives them some choices, which maybe they didn't realise existed," he added.
Speaking on being right in the heart of the city centre, Colin said, "I think it's a great location and one we're very lucky to have. The idea of these kinds of locations is that we're going to get passing trade so we gain from public awareness. Quite often we're here at lunchtime so we'll get members of the public out for their lunch. They'll wonder what's going on, stop, they'll chat to us perhaps about a particular roofing problem, but more importantly it also lets the public see that this is a really high-skill industry, something which they don't always appreciate.
"We typically are working tens of feet up in the air. They don't see what we're doing other than we're making a noise and we're looking busy. If they see this down at ground level, they can appreciate the skill level that there is."
Reflecting on his own experience with the current skills gap, Colin said, "We find traditional skills are really hard to get, we've been trying to recruit ourselves for what we would call an all-round slater for probably about two or three months with incredibly limited success, even the application level is very,