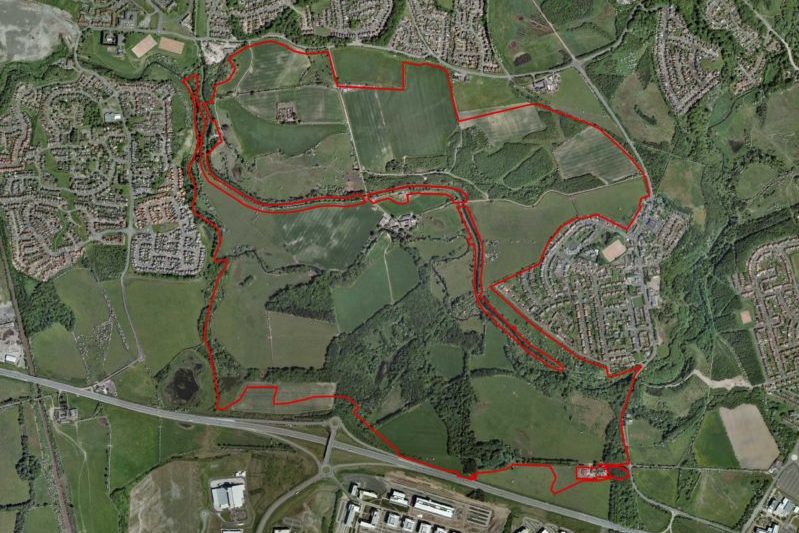 A formal planning application has been lodged for a new development off the M8 corridor in North Lanarkshire comprising a country park, 2,600 new homes and retail, business and leisure space.
Orchard Brae said its proposals for the EuroPark project involve a residential development surrounding a newly established park featuring the Monkland Canal and Calder Water, spanning more than half of the 600-acre site.
Following public consultations, the plans include new schools provision, health centres, business and leisure facilities, and a care village.
Subject to planning permission, the country park will comprise four new areas of parkland, containing a variety of habitats and attractions. Orchard Brae said it is working with Scottish Canals to "invigorate and maximise" the potential of the Monkland Canal and North Calder Water, with improved walkways giving the public access to new leisure opportunities.
The project has been tipped to create some 940 jobs directly, with a further peak of 4,650 temporary construction jobs during the build-out period.
Scott Gillespie, director of Orchard Brae said, "Two years on from when we first publicly unveiled our EuroPark vision, we are pleased to be formally progressing our plans with North Lanarkshire Council. After a sustained period of refining our ideas in line with community feedback, we believe we have created a strong proposition for the site with a variety of uses.
"We have major ambitions for EuroPark that we believe will provide much-needed housing, including up to 40 per cent affordable housing, as well as a significant boost to the local economy, new jobs, and an exciting new leisure and retail development for North Lanarkshire.
"Tying it all together with the country park influences reflects our entire sustainable approach to the development and ambition to positively involve communities. We want to realise the true potential of the site's wonderful existing assets and the creation of a park at the very core of the development is fundamental to that. We are keen to work closely with local communities to help maintain and harness what's best about it. We believe that we have a huge opportunity to create something very special for generations to come and are hopeful that the formal lodging of our plans with the local authority represents just the start of that process."