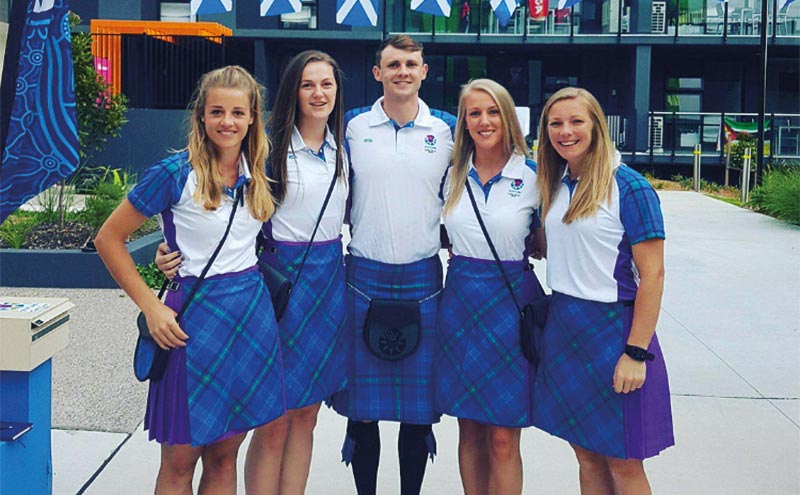 FOR weeks during this year's Commonwealth Games held on the Gold Coast of Australia, Ken Godsman and his staff at Glasgow-based ACT Construction (UK) Ltd avidly followed the Scottish team, including five of our nation's athletes.
They often stayed up to the early hours to watch the action live and the chat in the office was focused on the performance and results of hockey players Kareena Cuthbert and Robyn Collins, swimmer Ross Murdoch and netballers Emily Nicholl and Nicola McCleery.
"We probably did lose quite a few hours of work because of the Games," says a smiling Ken, ACT's managing director. "But there were different rewards in terms of company morale and national pride. It was a very enjoyable few weeks for ACT."
It was in 2016 that a chance letter from young hockey player, Robyn Collins, prompted the idea of ACT Construction (UK) Ltd sponsoring aspiring Scottish athletes. Robyn explained that money was tight for athletes like her and to be able to train full-time, at least in the run up to major competitions, she required financial help.
The plea for help struck a chord with Ken and he decided he would try to help. His offer of sponsorship was extended to another hockey player Kareena Cuthbert. Since then, ACT has also been supporting champion swimmer Ross Murdoch who is based in Stirling, and Emily Nicholl and Nicola McCleery, through their Glasgow team, UWS Sirens.
Ken said, "Throughout my life I've been involved with Scottish cricket – I was a board director of Cricket Scotland, the sport's governing body, for 15 years – and while I have been impressed by the dedication and achievements of many Scottish athletes, I've been equally shocked by the lack of funding support.
"I've seen youngsters with great talent being chosen for our national teams then, after studying at university and gaining a degree, making the difficult decision to walk away from the sport they love for the security and more substantial salary of a traditional career path rather than chase the dream of playing for their country.
"The truth is that many minority sports do not command the fat salaries of, for example, top footballers. Instead, these players need to work to make a basic living wage while training for their sport and they are asked to compete at an elite level on the world stage against full-time athletes."
While there is some funding support from the likes of sportscotland, the National Lottery and the individual sports bodies, such as Scottish Hockey, many athletes aim to seek sponsorship.
But as Ken learnt, since 2008 when the financial crisis hit the corporate world, sponsorship for individual athletes has been even tougher to secure.
As well as the individual athletes, all five of which competed at Gold Coast 2018, Ken offers financial support to Glasgow Hawks RFC who participate in the Scottish Rugby National Premier League and his own club, Greenock Cricket Club. He added, "Like many business people I do not have vast sums of money to throw around but I do feel proud to be able to give enough support to a few athletes and clubs. As an example, the sponorship of Kareena and Robyn was enough to allow them to train full-time for a few months each year, such as prior to the Commonwealth Games.
"I think many others in the business world would be surprised that a little financial support can go a long way to helping our athletes.
"I have found that being closely connected to minority sports and to the athletes is very rewarding. It is great to see them being successful and being able to commit properly to their dreams."
Ken believes there have been wider benefits for his company. He explained, "Sponsoring athletes sends out a good message to my staff about hard work and commitment. Elite sport and business have many things in common. We all want to be the best at what we do and to be the best you have to believe in what you do, remain committed, stay focused on your goals and be prepared to work harder than anyone else to achieve what you set out to."
• ACT Construction is a specialist subcontracting firm based in Anniesland, Glasgow. They design and build temperature-controlled environments and have been involved in projects for the likes of Robert Wiseman Dairies and Asda. The business also fits out data centres, whereby they install fire rated internal partitions with associated doors, raised floors and structural ceilings.