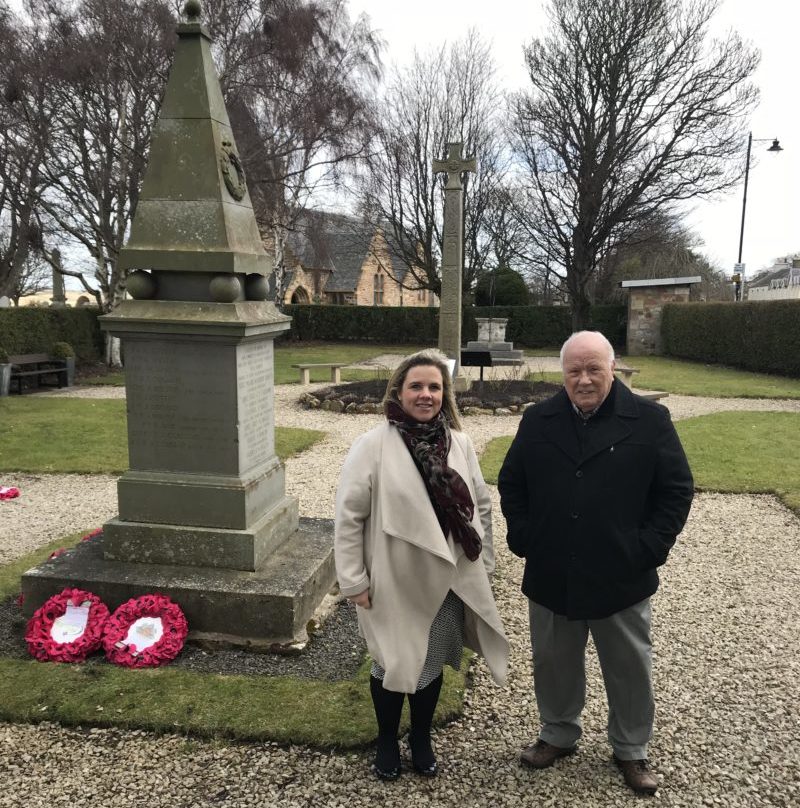 CRUDEN Homes has donated £500 to help Aberlady Community Association's bid to restore the East Lothian village's war memorial in time for the centenary commemoration of the end of World War One in November.
The memorial, which sits in a Garden of Remembrance, has always been a main focus of attention on Armistice Day but has fallen into a state of disrepair.
Donald Hay, chairman of the Aberlady Community Association explained, "Originally a memorial to the Boer War and situated in Gosford Estate between Aberlady and Longniddry, the monument was moved to its current location in 1919 on land donated by the then Lord Wemyss to be used as a war memorial naming Aberlady villagers who had fallen in the First World War. The garden was dedicated by Lady Wemyss on 'All Saints' Day of the same year, with the planting of memorial trees and years later, further names were added to the memorial in memory of the fallen from the Second World War.
"The monument has always been the main focus of attention on Armistice Day every year since 1919. The garden, with its high hedge, gives an atmosphere of seclusion and is ideal for personal reflection for all visitors who visit the site. This year, 2018, is the centenary of the end of the Great War and with this in mind, members of the community decided to initiate a fund for the refurbishment of the memorial to coincide with this significant occasion.
"At our first meeting with Cruden Homes' head of construction, Gordon Fullarton at the new Meadowside housing development in Aberlady, I had mentioned our situation regarding the monument and he indicated that he could pursue the matter further, which has resulted in the company's generous contribution of £500 to our funds.
"On behalf of the villagers and community, we are very grateful to Cruden Homes for their support. We plan to unveil a plaque when the work is completed which will list all the contributors to the fund and be a long-term reminder of their generosity."
Hazel Davies, Cruden Homes' sales and marketing director added, "We have an active policy at each of our development locations of trying to support the local community where we can and with Cruden Homes having a long and established history in East Lothian, we thought the Aberlady memorial restoration was a particularly worthy project and we hope very much, to attend the rededication ceremony."