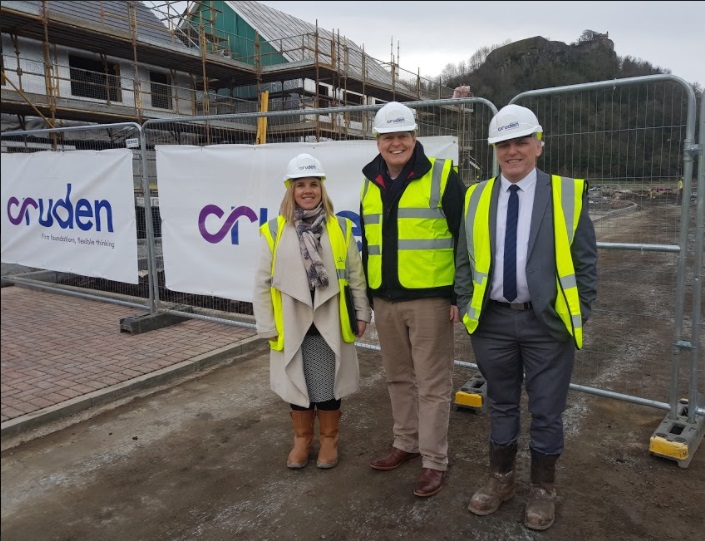 LOCAL MP Stephen Kerr has been to see the progress at Cruden Homes' Royal Park View development in the Raploch regeneration area in Stirling.
Mr Kerr was accompanied on a tour of the site by Hazel Davies, Cruden Homes' sales and marketing director and Gordon Fullarton, head of construction.
Cruden Homes said Mr Kerr heard details of the "rapid sales success" since the development was launched in August and about the firm's commitment to involving local people. The business has worked with the local community enterprise initiative to support entrants into construction through skills and training placements on site.
Mr Kerr said, "In the recent UK Budget, the Chancellor, rightly, made building more affordable homes and investing in training a skilled workforce, a priority. I was delighted to see for myself the work going on by Cruden Homes to encourage people in to the vitally important building trades and their continued development that is providing much needed housing in Stirling. Just as importantly I want to see similar measures bought forward in the upcoming Scottish Government budget that will match the UK Government's removal of tax duty from first time buyers."
Cruden Homes' sales and marketing director Hazel Davies added, "Cruden Homes has been involved in the regeneration of Raploch from the outset and we're proud to have been instrumental in the creation of a vibrant and mixed new community in this fabulous location. There is an acute shortage of quality, sustainable mixed tenure housing on a national level and we are delighted that Stephen Kerr's interest in Raploch will encourage political debate on this matter."