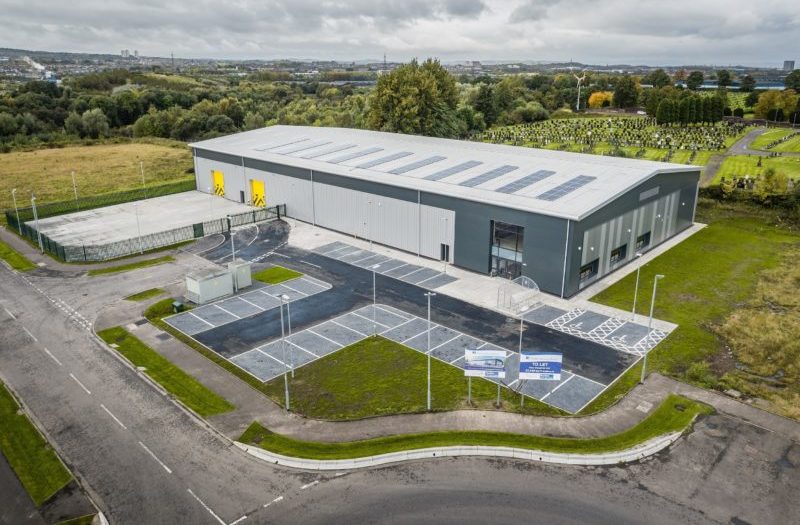 CONSTRUCTION work has completed on a £3 million speculative industrial unit at Clyde Gateway East Business Park.
Unit 201 is a new 27,500 sq. ft. manufacturing and engineering facility, undertaken by Clyde Gateway. The unit was built by Kier Construction Scotland and is being marketed by Ryden LLP.
Clyde Gateway East Business Park is already home to the likes of BT, Glacier Energy, Dentec and Cusack.
Ian Manson, chief executive of Clyde Gateway said, "The past few months have shown a positive trend in the west of Scotland's industrial property market, with good evidence of demand with high-quality space still in short supply. This new speculative unit has been built to attract companies from the key growth sectors identified in partnership with Scottish Enterprise, and I'm pleased to say we've had some very positive enquiries.
"Clyde Gateway's reputation as a great business destination is growing all the time as more and more companies locate here to take advantage of our excellent transport links, skilled labour force, fantastic business support and superfast broadband provision. The recent completion of improvements to the motorway network east of Glasgow boosts the attraction of Clyde Gateway as a business destination even further.
"Clyde Gateway East also has excellent service and utility provisions and is the only manufacturing location in Glasgow to benefit from a Smart electrical grid, which is greener, more efficient, secure and reliable."
Billy Linton, managing director of prestige vehicle repair and restoration company Dentec, who moved to Clyde Gateway East last year added, "When our business recently expanded, we outgrew our previous home in Rutherglen, so decided to move to Clyde Gateway East. Since we moved here the profile and image of our business has grown massively, we've brought in more work and the response from our customers to our new premises has been excellent. We think we're in a great location to take advantage of future opportunities and hopefully grow the business even further."