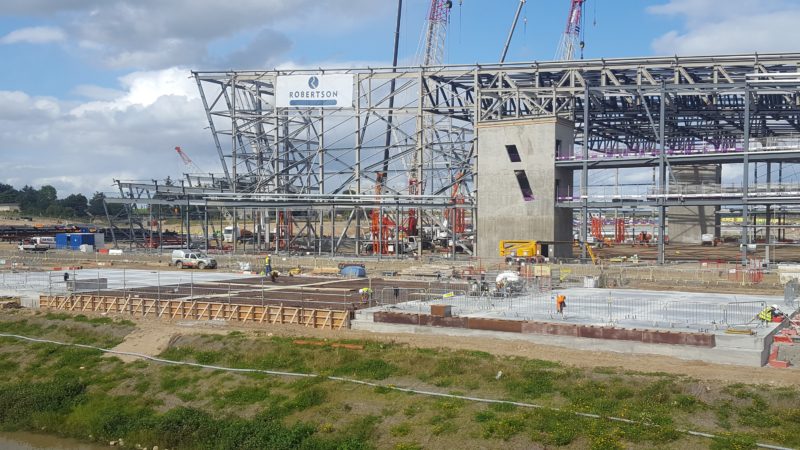 WORK is gathering pace at the energy centre at the new Aberdeen Exhibition and Conference Centre.
As thousands of people gather in the city to attend this year's SPE Offshore Europe Conference and Exhibition, it was revealed that the groundworks, drainage and concrete foundations for the energy centre are all underway, with steelworks due to be erected later this month.
The centre will host the largest fuel cell installation in the UK, providing electrical outputs reaching 1.4MW.
Robertson Group is the main contractor on the new AECC project, which is being built by Aberdeen City Council along with partner Henry Boot Developments.
Robertson Group's chief operating officer Derek Shewan said, "People are here in Aberdeen in their thousands to attend this year's Offshore Europe and it's great to know that when the bi-annual event next opens in 2019, they'll be heading here. Some of our major plant machinery will arrive on site on 25 September, with specialist hybrid plant equipment expected in late October.
"We are currently on track to meet our completion date to have the offsite substation and cabling finished, which will see permanent power supply reach the entire site."
Nick Harris, Scottish director at Henry Boot Developments added, "We want the new AECC to be among the most sustainable venues in the UK. The energy centre has been designed to provide the new exhibition and conference centre and hotels with heat, power and cooling, and will use new technology to deliver greater efficiency and environmental benefits."
Aberdeen City Council Co-Leader Councillor Jenny Laing said, "The scale of the new £333million AECC and its energy centre further underlines Aberdeen's position as global energy capital.
"The new AECC which will open in 2019 is designed to be a world-class exhibition, conference and meeting room venue and also we want it to be a leader in using sustainable technologies. I'm delighted we have another milestone to celebrate."