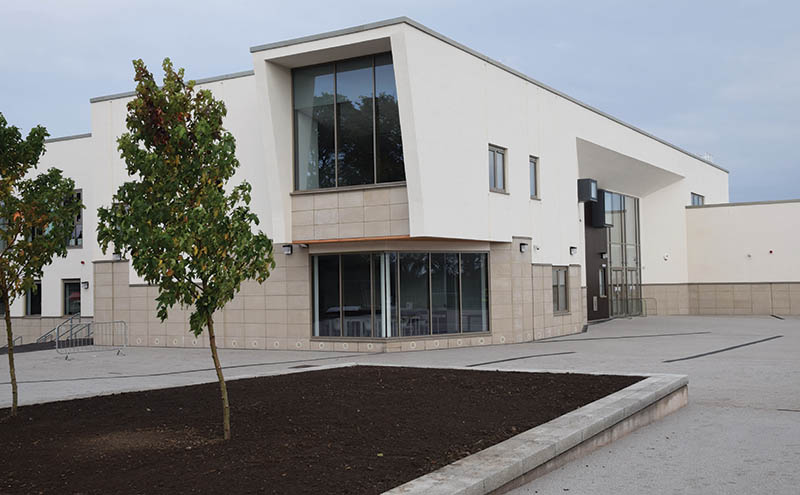 COLLABORATION is a word we hear a lot these days in relation to high-profile construction projects.
The notion that ventures are boosted when firms successfully work hand in hand to achieve a common goal seems like common sense.
A recent project where this was very much in evidence was the new Portobello High School in Edinburgh. The £28.5 million facility, which caters for 1,400 pupils, was a replacement for the existing building that had been home to the school for some 51 years.
The new development features traditional teaching spaces as well as a 25-metre swimming pool, games hall, gymnasium and two all-weather sports pitches.
No fewer than SEVEN Saint-Gobain brands operating in Scotland were involved in the new school project in one way or another, from the supply of specialist products and building materials to groundworks and even acoustic solutions.
Stuart McKill, sustainable habitat leader for Saint-Gobain in Scotland, believes the project is a standout example of what the group is capable of and is confident that pupils will reap the benefits for years to come.
"Education is a big area for Saint-Gobain," he told Project Scotland. "We've been involved in many, many schools across Scotland and it's just another good example of us touching the learning establishment.
"It really ties in very much with our strategy. We have this 'great places' initiative where we seek to create, in educational terms, great places to learn."
Stuart explained that the quality of a building can play a vital role in enhancing learning capability and pupil engagement. Environmental factors including acoustics, thermal quality, daylight and air quality are all an important part of the mix.
The seven Saint-Gobain brands involved in the Portobello development were British Gypsum, Celotex, Frazer, International Timber, Ecophon, Jewson and Isover.
The multi-purpose insulation board, Celotex TB4025, was used on the ground floor to overcome localised thermal bridges. This product solution is said to ensure long-term energy savings for the building.
Poorly designed acoustics can impact negatively on pupil learning, concentration and communication. With this in mind, British Gypsum's Gyproc DuraLine plasterboard was specified to enhance sound insulation and improve resistance performance, contributing to a peaceful learning environment. Additionally, Isover supplied acoustic partition roll, described as a high-performance glass mineral wool that helps to reduce noise from adjacent rooms. The product is made from up to 86% of recycled glass.
International Timber worked with the Jewson Branch in Falkirk to supply a range of timber product solutions for the stairways and corridors, as well as the outside entrance. Timber cladding was used to provide an "attractive, lasting and durable finish" both for internal and external environments. Fire treated Siberian larch cladding, lacquered oak timber and MDF Oak and skirting was specified, in addition to dressed timber, sawn timber and plywood sheets.
Ecophon's Akusto Wall A system was installed in the games hall in a Super G Grey finish. The system is an impact resistant wall absorber. The Super G Wall Panels are impact resistant and also aid with acoustics.
Finally, Frazer, a Saint-Gobain distribution brand, supplied over £100,000 of materials to the project, including drainage systems and landscaping solutions such as paving, kerbs and manhole rings.
"Portobello High is a really good example of Saint-Gobain coming to the fore but also a really good example of the team in Scotland collaborating," Stuart added. "We built good relationships and good contracts through the main contractor and through the sub-contractors. This helped with the phasing of works and also in terms of opportunities for the future too.
"One of our employees has two sons at Portobello High School so he's thrilled about the whole thing and highly positive about what's been achieved. We seek to be able to look at the performance, the outcomes that are achieved from new buildings, and hopefully that aligns to the ambitions of the school."
Stuart said one of the benefits of having so many brands involved in one project is that it helps the group learn about a development in great detail right from concept.  As a result, the business can support the specification of the task at hand by ensuring the best materials are used for a building to aid comfort and sustainability levels.
"We can look at how we can support specification by way of technical support to enhance the overall performance of the building," Stuart explained. "And then there's the more practical elements of where we tie in with appointed sub-contractors. It might be that there is a specialist training aspect related to some of the products. It might be, in terms of the crossover between brands, that we can make introductions to make it easier to ensure that people get the right products that they're seeking. Again, it comes back to us pulling together to not only offer products but also offer solutions as an organisation."
Portobello High wasn't the first major Scottish project to use many Saint-Gobain brands. The Sir Chris Hoy Velodrome in Glasgow's east end featured "six or seven" of the firms. Stuart hopes to one day be involved in a project where Saint-Gobain's presence reaches double figures.
Ultimately, the group's agenda is focused on improving buildings to create better places to live, work, play, learn and heal.
"To do that we need to make our customers aware of the products that are available, the solutions that are available through our business, and the capability of us to support by way of training, youth engagement and other areas around which we can actually engage in a project," Stuart said. "25% of the products that we sell today didn't exist five years ago. Innovation is really important. If we don't actually get a better understanding of our products in the marketplace, then we're missing an opportunity to create these better buildings and better solutions in terms of comfort and sustainability.
"If you'd asked me this two years ago, I didn't get it in truth.
"I didn't realise just how impactful a building is in terms of society and the costs and benefits – the impact it has on health, better attainment in education, (addressing the) skills gaps and so on. There are so many aspects to delivering better buildings and the impact that has on us all. 90% of our time is spent either indoors or in vehicles nowadays so that's a pretty good reason to focus on the quality of the building."
Last year, Project Scotland reported on the opening of Saint-Gobain's new Scottish Hub, situated in Glasgow, which was designed to give the company a location to showcase new products, hold meetings and tell the story of a firm that has been going for more than 350 years.
Stuart said the Hub has been a huge success so far, highlighted by the fact that in the week Project Scotland visited to conduct this interview, the facility was booked every day.
"It's been used by some of our customers, some of our supplier groups and our own internal brands," Stuart said.
"What we will see during the course of this year is we expect to deliver some CPDs and some of our new solutions in terms of product and/or system launches. Generally we will hopefully see increased usage of the facility."
Looking ahead to the rest of 2017, Stuart said Saint-Gobain is firmly focused on its MULTICOMFORT and closer to comfort building solutions. He stressed the importance of four elements – hear (acoustic comfort); feel (thermal comfort); breathe (indoor air quality); and see (visual comfort).
"In the second half of last year we launched our housing guide on new housing, which covered the Scottish regulations and showed the values attached to that in terms of how to reach each of the regulation levels and also deliver Section 6 and 7 using Saint-Gobain materials," Stuart added.
"It's a really good document and shows how bringing our products together gets you to these higher specification levels.
"We've also launched a multi-occupancy brochure and a steel-frame system in conjunction with Hadley Steel. That's for buildings up to 18 metres high and is very much about multi-occupancy buildings such as residential/care homes/leisure facilities.
"We seek to see some pretty strong fabric first and closer to comfort solutions with that."
Saint-Gobain's R&D specialists have been working on how to demonstrate the quality of buildings and the environment in which we live and work.
Stuart produced a gadget called MC 350, which he described as a prototype device launched by the organisation. The widget connected to his phone and captures information like lux levels, temperature, humidity and noise levels in a room.
The data can be archived and sent back to a central database.
"We can start to capture how buildings are performing," Stuart said. "It starts to bring to life this whole building performance agenda. It becomes evidential.
"If you go into a school classroom and the dB levels are though the roof, we know that it's going to be really hard to hear.
"I showed this device to a developer in Edinburgh. We were sitting in his office and lux levels were high. He said it was no wonder he was getting splitting headaches due to a light beaming down on him all day. It really resonated with him how important these things are."
• The new Portobello High is now up and running, with headteacher Ruth McKay commenting that the building has had a positive impact on both students and teachers. "It feels special to come into a building like this; the environment will be a great place to learn for the students," she said.
"The effect on the local community is going to be felt too, as it will benefit the people around Portobello who can hopefully embrace and make use of this fantastic facility."
JM Architects worked on the project alongside main contractor Balfour Beatty Ltd and A + E Construction Scotland Ltd.